THEY TELL US MANY THINGS, 1977

signed and dated '77; titled on the reverse; also titled to gallery labels on the reverse
28 ins x 24 ins; 71.1 cms x 61 cms

---
June 09, 2022
Estimate $12,000-$18,000
Realised: $28,800
Although Odjig experimented freely with her style, it is always recognizable. Cubism and Surrealism influenced her work, and while the composition with its implication of interconnectedness and cosmological layers is distinctly Nishnaabe-Neshnabe, Picasso's touch can be felt in They Tell Us Many Things—particularly in the face of the uppermost figure.
In addition to her tremendous contributions as a visual artist, Odjig, often referred to as the "Grandmother of Indigenous Art," is remembered for her mentorship and support of a multitude of younger artists. They Tell Us Many Things showcases such a transfer of knowledge, perhaps between generations, or perhaps between the realms of the supernatural and the terrestrial.
This painting was purchased at the Jack Pollock Gallery when it was located on Scollard Street, Toronto, Ontario.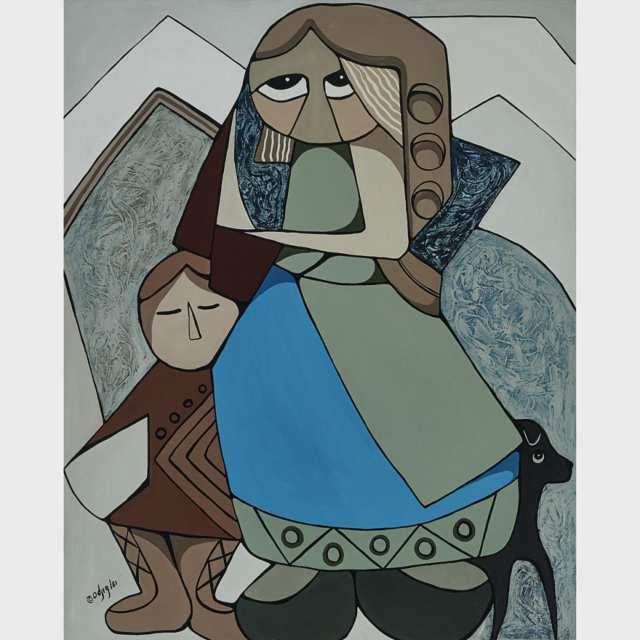 WALKING WITH DONALD

signed and dated /81
39.75 ins x 32 ins; 101 cms x 81.3 cms

---
November 20, 2017
Estimate $15,000-$20,000
Realised: $48,000
CHILDHOOD IMAGINATIONS: OF KINGS AND QUEENS AND STUFF LIKE THAT, 1997

signed; signed, titled and dated '97 on the reverse; also titled to gallery label on the reverse
30.25 ins x 26.25 ins; 76.8 cms x 66.7 cms

---
June 09, 2022
Estimate $20,000-$30,000
Realised: $28,800
A RESTFUL EVENING

ACRYLIC ON CANVAS; SIGNED LOWER LEFT; TITLED AND DATED /85 VERSO - INVENTORY #447
23.8" x 18" — 60.5 x 45.7 cm.

---
March 15, 2012
Estimate $3,000-$5,000
Realised: $26,520
Inuit, First Nations & Métis Art
Waddington's is internationally recognized as one of the leading authorities in marketing Inuit Art. No other auction house has been as intrinsically linked to the development of a market for this art form. From our first landmark auction in 1978 of the William Eccles Collection, Waddington's has offered thousands of works, set record prices, and expanded the market well beyond Canada's borders. Our legacy of successful Inuit Art auctions, our ability to achieve continually increasing values and our creation of an international market have been key factors in validating Inuit art as a whole and establishing it as an integral part of the Canadian Art scene.
Meet the Specialist