JOE'S ESCAPE

c. 1970, signed in Roman
4.5" x 7.5" x 2.5" — 11.4 x 19.1 x 6.4 cm.

---
November 16, 2015
Estimate $20,000-$30,000
Realised: $163,500
This work represents an important piece of Joe Talirunili's astonishing life story as well as an integral part of his body of work. This unusually expressive little piece is a snapshot in time, much like his famous Migration series. What makes this so special is that Joe had not just one brush with death while traveling by umiak in his lifetime. This boat occupied by Joe and his son was constructed from the wreckage of their boat when it hit a reef.
ARCHER

c. 1970
6.5 ins x 3.5 ins x 4 ins; 16.5 cms x 8.9 cms x 10.2 cms

---
May 30, 2016
Estimate $4,000-$6,000
Realised: $24,000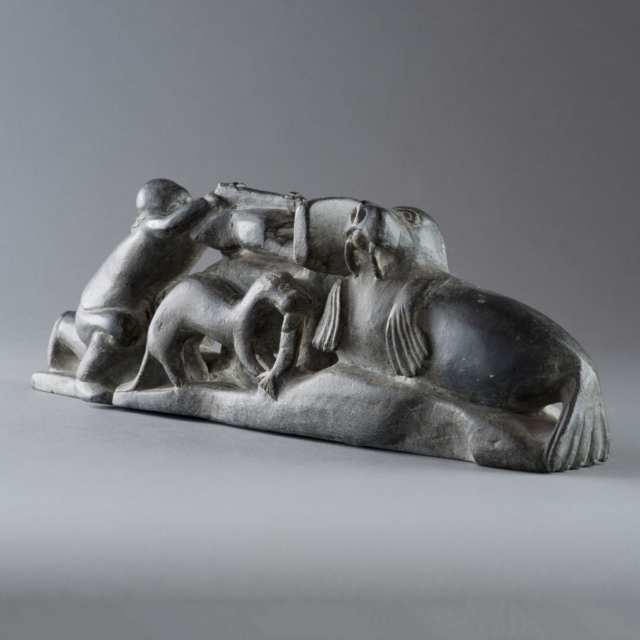 HUNTER HARPOONING WALRUS

signed in Roman, disc number inscribed, c. 1962
4.5 x 14 x 3 in — 36.5 x 35.6 x 7.6 cm

---
November 20, 2018
Estimate $12,000-$16,000
Realised: $19,200
Inuit, First Nations & Métis Art
Waddington's is internationally recognized as one of the leading authorities in marketing Inuit Art. No other auction house has been as intrinsically linked to the development of a market for this art form. From our first landmark auction in 1978 of the William Eccles Collection, Waddington's has offered thousands of works, set record prices, and expanded the market well beyond Canada's borders. Our legacy of successful Inuit Art auctions, our ability to achieve continually increasing values and our creation of an international market have been key factors in validating Inuit art as a whole and establishing it as an integral part of the Canadian Art scene.
Meet the Specialist