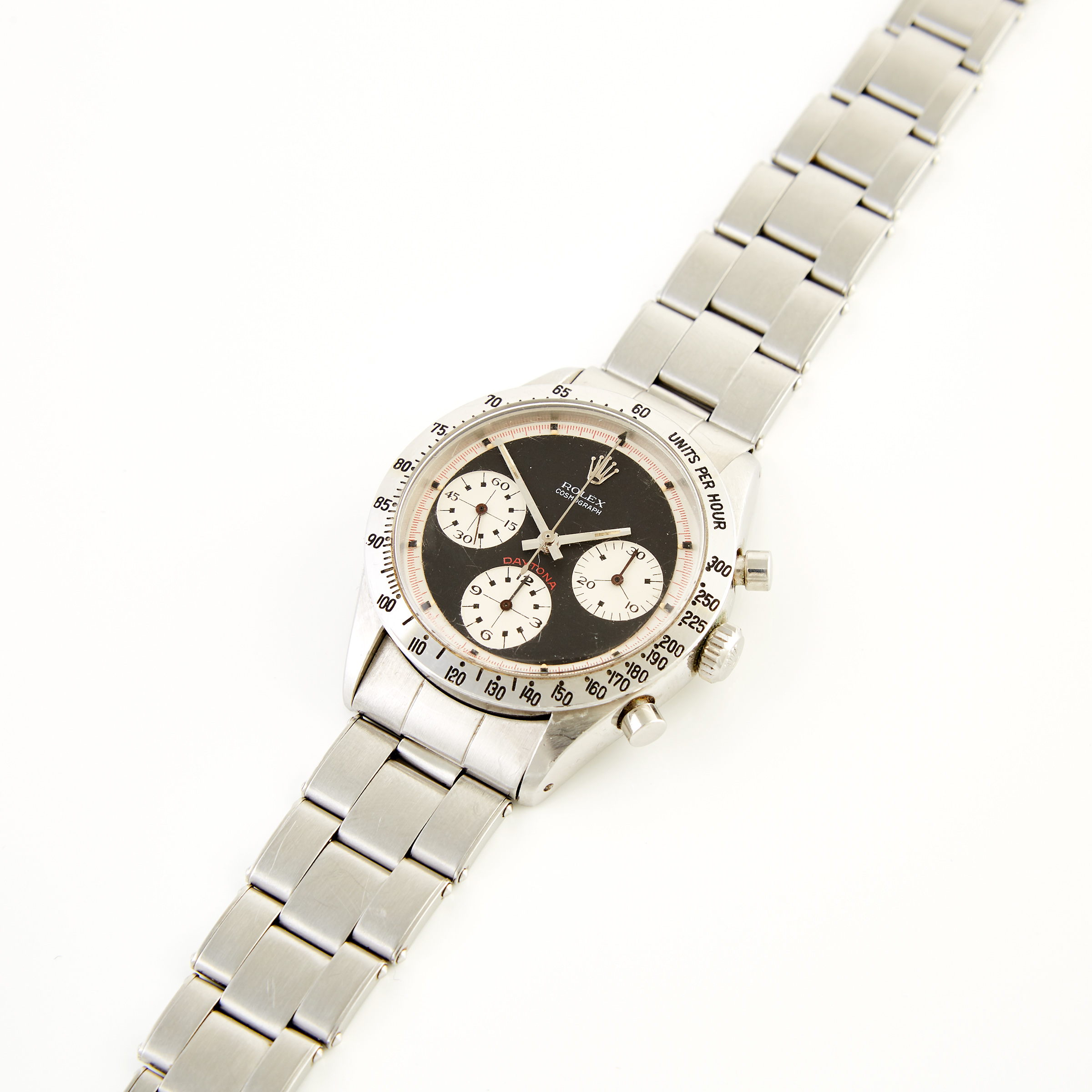 circa 1965; reference #6239; case #1695242; 36mm; 17 jewel cal.722 movement adjusted to three positions; bi-colour black and off-white dial with red 1/5th seconds track; stainless steel case and strap; fine condition case and dial

---
June 12, 2018
Estimate $120,000-$140,000
Realised: $216,000
Rolex – the iconic Swiss luxury watchmaker actually got its start in London, England in 1905 and didn't move to Geneva, Switzerland until 1919.
The company name "Rolex" was first used 1915. The book The Best of Time: Rolex Wristwatches: An Unauthorized History says that the name was just made up.  Forbes ranked Rolex 64th on its 2016 list of the world's most powerful global brands.
In October 2017, a Rolex Daytona (model 6239) watch formerly owned by the actor Paul Newman was sold for US$17.75 million.
Classic models have been highly sought for years, including the Daytona, the GMT Master and the Royal Oak, which we were pleased to offer in our June 2018 auction. A similar Rolex Cosmograph "Red Daytona" achieved $216,000.
Fine Jewellery & Watches
Waddington's has conducted auctions of Fine Jewellery and Watches for over three decades. Our auctions include both contemporary and period jewellery, and feature the work of some of the world's most famous design houses including Tiffany, Cartier and Fabergé. These auctions also feature significant pocket and wristwatches including Rolex, Omega, Vacheron Constantin, and Patek Philippe. During the year, we also hold Quarterly Jewellery, Watch & Numismatic auctions where, as well as all forms of gold jewellery, we offer silver jewellery, designer fashion jewellery, pocket and wristwatches, numismatics and bank notes.
Meet the Specialist