CHÂTEAU MOUTON ROTHSCHILD 1945 (1)
PAUILLAC. 1ER CRU CLASSÉ
U. TS; WINE-STAINED LABEL; CORRODED CAPSULE

CHÂTEAU MOUTON ROTHSCHILD 1946 (1)
PAUILLAC. 1ER CRU CLASSÉ
U. MS; CORRODED CAPSULE

CHÂTEAU MOUTON ROTHSCHILD 1947 (1)
PAUILLAC. 1ER CRU CLASSÉ
U. BN; CORRODED CAPSULE

CHÂTEAU MOUTON ROTHSCHILD 1948 (1)
PAUILLAC. 1ER CRU CLASSÉ
U. HS; BIN-SOILED LABEL; CORRODED CAPSULE

CHÂTEAU MOUTON ROTHSCHILD 1949 (1)
PAUILLAC. 1ER CRU CLASSÉ
U. MS; BIN-SOILED LABEL; CORRODED CAPSULE

CHÂTEAU MOUTON ROTHSCHILD 1950 (1)
PAUILLAC. 1ER CRU CLASSÉ
U. HS; CORRODED CAPSULE

CHÂTEAU MOUTON ROTHSCHILD 1951 (1)
PAUILLAC. 1ER CRU CLASSÉ
U. HS; BIN-SOILED LABEL; CORRODED CAPSULE

CHÂTEAU MOUTON ROTHSCHILD 1952 (1)
PAUILLAC. 1ER CRU CLASSÉ
U. HS; BIN-SOILED LABEL; CORRODED CAPSULE

CHÂTEAU MOUTON ROTHSCHILD 1953 (1)
PAUILLAC. 1ER CRU CLASSÉ
U. TS; BIN-SOILED LABEL; CORRODED CAPSULE

CHÂTEAU MOUTON ROTHSCHILD 1954 (1)
PAUILLAC. 1ER CRU CLASSÉ
BIN-SOILED LABEL; CORRODED CAPSULE

CHÂTEAU MOUTON ROTHSCHILD 1955 (1)
PAUILLAC. 1ER CRU CLASSÉ
U. HS; BIN-SOILED LABEL; CORRODED CAPSULE

CHÂTEAU MOUTON ROTHSCHILD 1956 (1)
PAUILLAC. 1ER CRU CLASSÉ
U. TS; BIN-SOILED LABEL; CORRODED CAPSULE

CHÂTEAU MOUTON ROTHSCHILD 1957 (1)
PAUILLAC. 1ER CRU CLASSÉ
U. BN; BIN-SOILED LABEL; CORRODED CAPSULE

CHÂTEAU MOUTON ROTHSCHILD 1958 (1)
PAUILLAC. 1ER CRU CLASSÉ
U. HS; BIN-SOILED LABEL; CORRODED CAPSULE

CHÂTEAU MOUTON ROTHSCHILD 1959 (1)
PAUILLAC. 1ER CRU CLASSÉ
U. HS; BIN-SOILED LABEL; CORRODED CAPSULE

CHÂTEAU MOUTON ROTHSCHILD 1960 (1)
PAUILLAC. 1ER CRU CLASSÉ
U. TS; BIN-SOILED LABEL; WINE-STAINED LABEL; CORRODED CAPSULE

CHÂTEAU MOUTON ROTHSCHILD 1961 (1)
PAUILLAC. 1ER CRU CLASSÉ
U. TS; BIN-SOILED LABEL; CORRODED CAPSULE

CHÂTEAU MOUTON ROTHSCHILD 1962 (1)
PAUILLAC. 1ER CRU CLASSÉ
U. TS; BIN-SOILED LABEL; WINE-STAINED LABEL; CORRODED CAPSULE

CHÂTEAU MOUTON ROTHSCHILD 1963 (1)
PAUILLAC. 1ER CRU CLASSÉ
U. VTS; BIN-SOILED LABEL; CORRODED CAPSULE

CHÂTEAU MOUTON ROTHSCHILD 1964 (1)
PAUILLAC. 1ER CRU CLASSÉ
U. MS; BIN-SOILED LABEL; CORRODED CAPSULE

CHÂTEAU MOUTON ROTHSCHILD 1965 (1)
PAUILLAC. 1ER CRU CLASSÉ
U. MS; BIN-SOILED LABEL; CORRODED CAPSULE

CHÂTEAU MOUTON ROTHSCHILD 1966 (1)
PAUILLAC. 1ER CRU CLASSÉ
U. TS; BIN-SOILED LABEL; CORRODED CAPSULE

CHÂTEAU MOUTON ROTHSCHILD 1967 (1)
PAUILLAC. 1ER CRU CLASSÉ
U. VTS; BIN-SOILED LABEL; CORRODED CAPSULE

CHÂTEAU MOUTON ROTHSCHILD 1968 (1)
PAUILLAC. 1ER CRU CLASSÉ
U. MS; BIN-SOILED LABEL;CORRODED CAPSULE

CHÂTEAU MOUTON ROTHSCHILD 1969 (1)
PAUILLAC. 1ER CRU CLASSÉ
U. HS; BIN-SOILED LABEL; CORRODED CAPSULE

CHÂTEAU MOUTON ROTHSCHILD 1970 (1)
PAUILLAC. 1ER CRU CLASSÉ
U. HS; BIN-SOILED LABEL; CORRODED CAPSULE

CHÂTEAU MOUTON ROTHSCHILD 1971 (1)
PAUILLAC. 1ER CRU CLASSÉ
U. TS; BIN-SOILED LABEL; CORRODED CAPSULE

CHÂTEAU MOUTON ROTHSCHILD 1972 (1)
PAUILLAC. 1ER CRU CLASSÉ
U. TS; BIN-SOILED LABEL; CORRODED CAPSULE

CHÂTEAU MOUTON ROTHSCHILD 1973 (1)
PAUILLAC. 1ER CRU CLASSÉ
U. TS; BIN-SOILED LABEL; WINE-STAINED LABEL; CORRODED CAPSULE

CHÂTEAU MOUTON ROTHSCHILD 1974 (1)
PAUILLAC. 1ER CRU CLASSÉ
U. VTS; BIN-SOILED LABEL; CORRODED CAPSULE

CHÂTEAU MOUTON ROTHSCHILD 1975 (1)
PAUILLAC. 1ER CRU CLASSÉ
U. HS; BIN-SOILED LABEL; CORRODED CAPSULE

CHÂTEAU MOUTON ROTHSCHILD 1976 (1)
PAUILLAC. 1ER CRU CLASSÉ
U. HS; BIN-SOILED LABEL; WATER-STAINED LABEL; CORRODED CAPSULE

CHÂTEAU MOUTON ROTHSCHILD 1977 (1)
PAUILLAC. 1ER CRU CLASSÉ
U. TS; BIN-SOILED LABEL; WATER-STAINED LABEL; CORRODED CAPSULE

CHÂTEAU MOUTON ROTHSCHILD 1978 (1)
PAUILLAC. 1ER CRU CLASSÉ
U. VTS; BIN-SOILED LABEL; WATER-STAINED LABEL; CORRODED CAPSULE

CHÂTEAU MOUTON ROTHSCHILD 1979 (1)
PAUILLAC. 1ER CRU CLASSÉ
U. TS; BIN-SOILED LABEL; CORRODED CAPSULE

CHÂTEAU MOUTON ROTHSCHILD 1980 (1)
PAUILLAC. 1ER CRU CLASSÉ
U. BN; BIN-SOILED LABEL; WINE-STAINED LABEL; CORRODED CAPSULE

CHÂTEAU MOUTON ROTHSCHILD 1981 (1)
PAUILLAC. 1ER CRU CLASSÉ
U. VTS; BIN-SOILED LABEL; CORRODED CAPSULE

CHÂTEAU MOUTON ROTHSCHILD 1982 (1)
PAUILLAC. 1ER CRU CLASSÉ
U. VTS; CORRODED CAPSULE

CHÂTEAU MOUTON ROTHSCHILD 1983 (1)
PAUILLAC. 1ER CRU CLASSÉ
U. VTS; BIN-SOILED LABEL; CORRODED CAPSULE

CHÂTEAU MOUTON ROTHSCHILD 1984 (1)
PAUILLAC. 1ER CRU CLASSÉ
U. VTS; BIN-SOILED LABEL; CORRODED CAPSULE

CHÂTEAU MOUTON ROTHSCHILD 1985 (1)
PAUILLAC. 1ER CRU CLASSÉ
U. VTS

CHÂTEAU MOUTON ROTHSCHILD 1986 (1)
PAUILLAC. 1ER CRU CLASSÉ
U. VTS; BIN-SOILED LABEL

CHÂTEAU MOUTON ROTHSCHILD 1987 (1)
PAUILLAC. 1ER CRU CLASSÉ
U. VTS; BIN-SOILED LABEL

CHÂTEAU MOUTON ROTHSCHILD 1988 (1)
PAUILLAC. 1ER CRU CLASSÉ
U. BN; BIN-SOILED LABEL;

CHÂTEAU MOUTON ROTHSCHILD 1989 (1)
PAUILLAC. 1ER CRU CLASSÉ
U. BN; BIN-SOILED LABEL;

CHÂTEAU MOUTON ROTHSCHILD 1990 (1)
PAUILLAC. 1ER CRU CLASSÉ
U. VTS; BIN-SOILED LABEL;

CHÂTEAU MOUTON ROTHSCHILD 1991 (1)
PAUILLAC. 1ER CRU CLASSÉ
U. BN; BIN-SOILED LABEL;

CHÂTEAU MOUTON ROTHSCHILD 1992 (1)
PAUILLAC. 1ER CRU CLASSÉ

CHÂTEAU MOUTON ROTHSCHILD 1993 (1)
PAUILLAC. 1ER CRU CLASSÉ
USA LABEL

CHÂTEAU MOUTON ROTHSCHILD 1994 (1)
PAUILLAC. 1ER CRU CLASSÉ

CHÂTEAU MOUTON ROTHSCHILD 1995 (1)
PAUILLAC. 1ER CRU CLASSÉ

CHÂTEAU MOUTON ROTHSCHILD 1996 (1)
PAUILLAC. 1ER CRU CLASSÉ

CHÂTEAU MOUTON ROTHSCHILD 1997 (1)
PAUILLAC. 1ER CRU CLASSÉ

CHÂTEAU MOUTON ROTHSCHILD 1998 (1)
PAUILLAC. 1ER CRU CLASSÉ
LIGHTLY BIN-SOILED LABEL

CHÂTEAU MOUTON ROTHSCHILD 1999 (1)
PAUILLAC. 1ER CRU CLASSÉ

CHÂTEAU MOUTON ROTHSCHILD 2000 (1)
PAUILLAC. 1ER CRU CLASSÉ


56 BTS. PER LOT $55,000 - $65,000


---
May 16, 2017
Estimate $55,000-$65,000
Realised: $57,600
Drinkable Art: An impressive 56-bottle vertical of Château Mouton Rothschild, 1945 to 2000
A merging of two disciplines of art: outstanding oenology and sophisticated artistic labels, each vintage of wine and label is unique to itself but as a whole collection reflects the passage of time. Salvador Dalí (1958), Joan Miró (1969), Marc Chagall (1970), Pablo Picasso (1973) and Andy Warhol (1975) are a few of the contemporary artists who designed Château Mouton Rothschild labels; interestingly, for payment in cases of wine.
History in a Bottle
In 1945, Château Mouton Rothschild commissioned artist Philippe Jullian to create a unique wine label to celebrate the victory over Germany in World War II. Thus began the tradition of creating a unique wine label for every vintage. The labels are often topical, sometimes whimsical, but always quintessentially Mouton. The wine itself is also the closest one can come to drinking history; drinking this collection of wines would not only allow one to follow the evolution of the chateau's masterful work but to also follow the evolution of art, style and culture.
CHÂTEAU MOUTON ROTHSCHILD 1986
PAUILLAC. 1ER CRU CLASSÉ
U. 6 BNS

THE 1986 MOUTON-ROTHSCHILD IS A BLEND OF 80% CABERNET SAUVIGNON, 10% MERLOT, 8% CABERNET FRANC AND 2% PETIT VERDOT THAT WAS PICKED FROM 2 OCTOBER UNTIL 16 OCTOBER. WINEMAKER PHILIPPE DHALLUIN, WHO WAS NOT WORKING AT THE PROPERTY BACK THEN, TOLD ME THAT THE PH WAS FAIRLY LOW AT 3.54 WHEN IT IS USUALLY AROUND 3.75, DUE TO THE NATURAL TARTARIC ACID IN THE VINES. IT HAS A POWERFUL AND INTENSE BOUQUET AS ALWAYS: EXEMPLARY GRAPHITE AND CEDAR SCENTS, A TOUCH OF BLACK PEPPER AND INCENSE. IT SEEMS TO UNFURL IN THE GLASS, LIKE A MOTOR REVVING ITS ENGINE. THE PALATE IS BEAUTIFULLY BALANCED WITH ITS TRADEMARK FIRM TANNIC STRUCTURE, A MOUTON-ROTHSCHILD WITH BACKBONE AND MASCULINITY. LAYERS OF BLACK FRUIT INTERMINGLING WITH MINT AND GRAPHITE, A HINT OF LICORICE EMANATING FROM THE MERLOT, GENTLY FANNING OUT AND MY GOD, IT IS INCREDIBLY LONG. IT IS NOT LIKE THE 1985 MOUTON-ROTHSCHILD THAT IS SO FLESHY AND GENEROUS. THIS IS SERIOUS, ARISTOCRATIC MOUTON, A TRUE VIN DE GARDE AND YES, I DO THINK DRINKERS WILL HAVE TO WAIT UNTIL IT REACHES ITS TRUE PEAK. SOMETIMES THAT'S JUST THE WAY IT IS. TASTED SEPTEMBER 2016. 99 WS 100 WA


6 BTS. PER LOT $5,300 - $6,200


---
November 28, 2017
Estimate $5,300-$6,200
Realised: $7,440
CHÂTEAU MOUTON-ROTHSCHILD 1973 (1)
PAUILLAC. 1ER CRU CLASSÉ
U. HS.

CHÂTEAU MOUTON-ROTHSCHILD 1967 (1)
PAUILLAC. 1ER CRU CLASSÉ
U. HS. TORN LABEL

CHÂTEAU MOUTON-ROTHSCHILD 1970 (2)
PAUILLAC. 1ER CRU CLASSÉ
U. 1 BN. 1 VTS.

CHÂTEAU MOUTON-ROTHSCHILD 1971 (1)
PAUILLAC. 1ER CRU CLASSÉ
U. VTS. SCUFFED LABEL

CHÂTEAU MOUTON-ROTHSCHILD 1979 (2)
PAUILLAC. 1ER CRU CLASSÉ
U. 1 VTS.


7 BTS. PER LOT $2,200 - $2,700


---
November 28, 2017
Estimate $2,200-$2,700
Realised: $3,960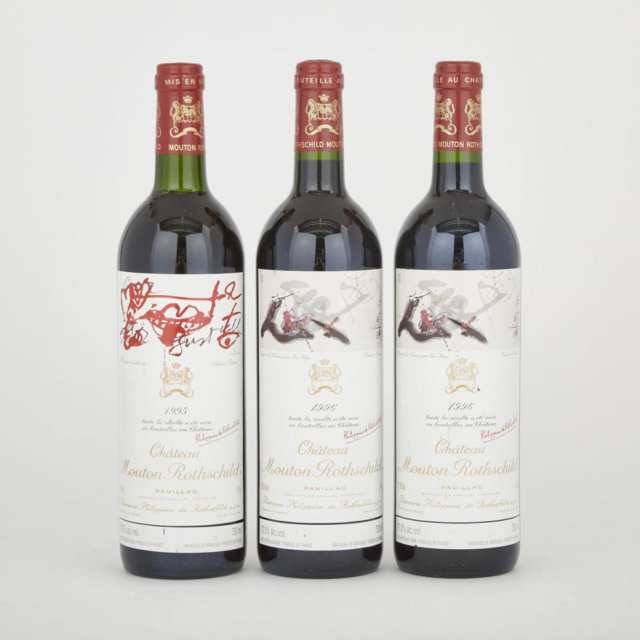 CHÂTEAU MOUTON ROTHSCHILD 1995 (1)
PAUILLAC. 1ER CRU CLASSÉ
U. 1VTS.

BOTTLED IN JUNE, 1997, THIS PROFOUND MOUTON IS MORE ACCESSIBLE THAN THE MORE MUSCULAR 1996. A BLEND OF 72% CABERNET SAUVIGNON, 9% CABERNET FRANC, AND 19% MERLOT, IT REVEALS AN OPAQUE PURPLE COLOR, AND RELUCTANT AROMAS OF CASSIS, TRUFFLES, COFFEE, LICORICE, AND SPICE. IN THE MOUTH, THE WINE IS "GREAT STUFF," WITH SUPERB DENSITY, A FULL-BODIED PERSONALITY, RICH MID-PALATE, AND A LAYERED, PROFOUND FINISH THAT LASTS FOR 40+ SECONDS. THERE IS OUTSTANDING PURITY AND HIGH TANNIN, BUT MY INSTINCTS SUGGEST THIS WINE IS LOWER IN ACIDITY AND SLIGHTLY FLESHIER THAN THE BRAWNIER, BIGGER 1996. BOTH ARE GREAT EFFORTS FROM MOUTON-ROTHSCHILD. ANTICIPATED MATURITY: 2004-2030. 95 WA

CHÂTEAU MOUTON ROTHSCHILD 1996 (2)
PAUILLAC. 1ER CRU CLASSÉ

IT IS FOUR YEARS SINCE I LAST TASTED THE 1996 CHÂTEAU MOUTON-ROTHSCHILD. APPROACHING 20 YEARS OLD, THE NOSE IS NOW OPEN FOR BUSINESS BUT REMAINING CLASSIC IN STYLE, A MIXTURE OF RED AND BLACK FRUIT, HICKORY, CEDAR AND JUST A HINT OF LAVENDER. IT IS VERY COMPLEX AND BEAUTIFULLY DEFINED. THE PALATE IS MEDIUM-BODIED WITH A SLIGHTLY HERBACEOUS, UNDERGROWTH-TINGED OPENING, THE TANNINS JUST A LITTLE ABRASIVE AT THE MOMENT, EXERTING A FIRMNESS IN THE MOUTH. I FEEL IT IS ALMOST AS IF THE PALATE HAS NOT KEPT PACE WITH THE AROMATICS, REQUIRING MORE SUBSTANCE TO FILL OUT THE FOURSQUARE FINISH. IF YOU LIKE A SLIGHTLY MORE AUSTERE PAUILLAC THEN YOU WILL ADORE THIS, THOUGH I DON'T THINK IT QUITE REACHES THE POTENTIAL THAT IT SHOWED A FEW YEARS AGO. TASTED AUGUST 2016. DRINK 2015-2035 94 WA


3 BTS. PER LOT $1,600 - $1,800


---
May 16, 2017
Estimate $1,600-$1,800
Realised: $3,900
Fine Wine and Spirits
Waddington's is the sole and first company in Ontario permitted to provide the sale by auction of fine wine and spirits, under the authority of the LCBO. Waddington's previously conducted the LCBO's Vintages Fine Wine and Spirits auctions from 2009 – 2013. The popularity of collecting wine as an investment grows every year. Many wines offered at auction appreciate in value, especially rare and acclaimed vintages, making auctions an excellent way to build a fine wine portfolio. Our auctions also provide an opportunity for collectors to buy wines that aren't available through other channels and allow restaurants to build world-class wine lists.
Meet the Specialist