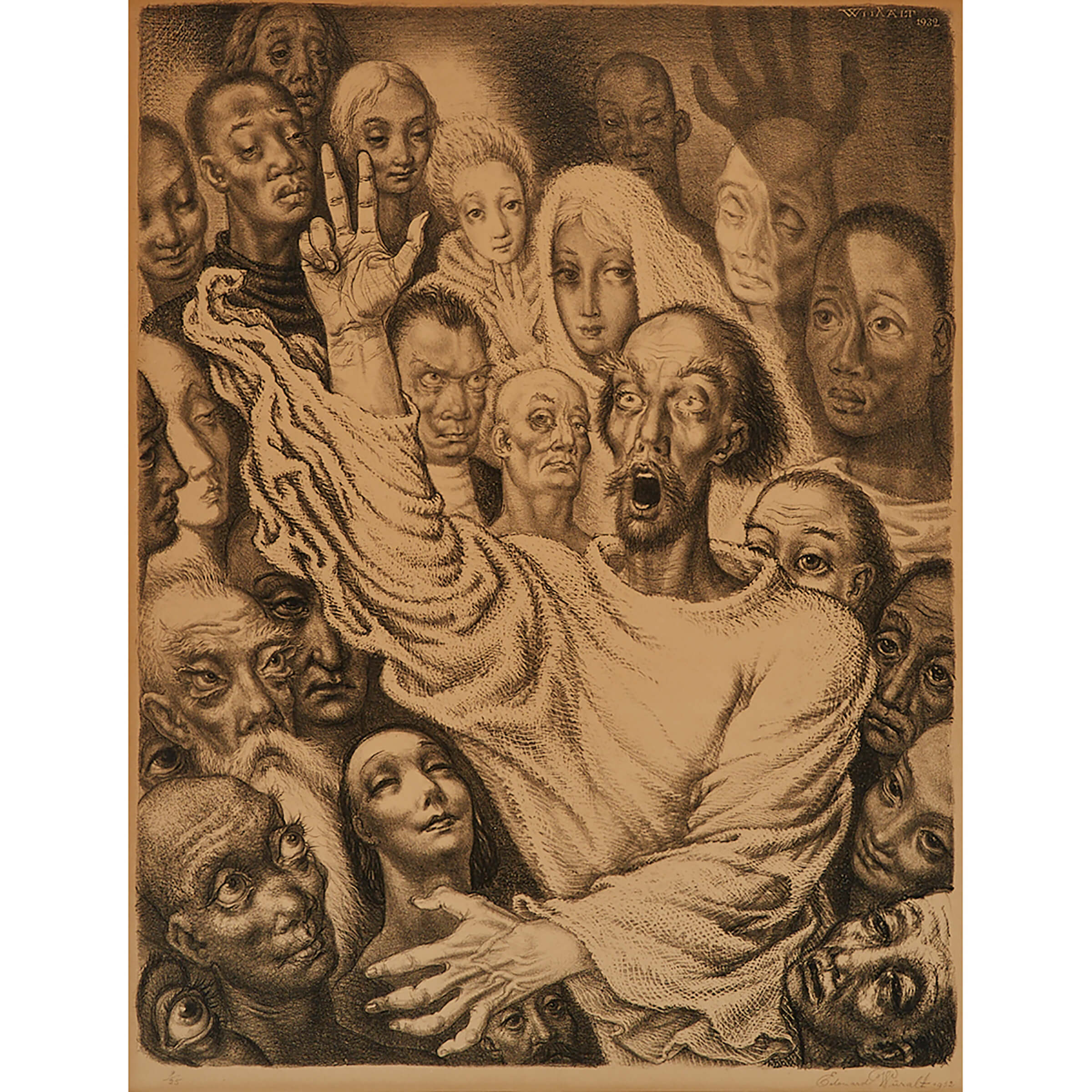 SAARNAAJA PREDIKANTEN (THE PREACHER), 1932

Lithograph; signed and dated 1932 in the plate upper right; signed, dated 1932 and numbered 9/25 in pencil to margin
Image/Sheet 24.4 x 18.9 in — 62 x 48 cm; 27.8 x 21.3 in — 70.7 x 54 cm

---
October 04, 2018
Estimate $1,000-$1,500
Realised: $20,400
International Record Price Achieved at Auction
Wiiralt, one of the most loved Estonian artists, was born on a country estate near St. Petersburg in the late 1800s. He moved to Tallinn as World War I broke out, and began his art studies in that period.
According to curator Tiina Abel of the Kumu Museum in Tallinn, Estonia: "The most fantastic drawings and prints belong to the period between 1925 and 1933, when the artist followed the bohemian way of life and was possessed by his work…It was a turning point. After that, Wiiralt radically changed his way of life."
Provenance:
Direct from the artist's personal collection in Estonia and passed down through the family to the consignor.
A print of this rare edition print was exhibited in 1937 in "Edward Wiiralt retrospective exhibition, catalog 1917-1936" at Helsinki Art Hall, January 23 – February 2, 1937 as "Saarnaaja Predikanten," illustrated, p. 53.
HELVETET (PORGU/HELL), 1930 [KANGILASKI, 56]

Etching and copper engraving; inscribed "Rue Maison Dieu Paris" in the plate lower left; signed, titled and inscribed "Helvetet kopparstick och etsing" and dated "1930" in sepia pen and ink to margin. Unnumbered from the artist's collection.
Plate/Sheet 15.4 x 18.5 in — 39 x 47 cm; 20 x 24.75 in — 50.8 x 62.9 cm

---
October 04, 2018
Estimate $3,000-$5,000
Realised: $13,200
International Art
Waddington's International Art department presents a rich diversity of original artworks from the Old Masters to the 21st century from around the world. We are the leading Canadian auction house showcasing International art from collections in Canada and an ever-increasing number of works of art from collections around the world. The combination of our expertise and our global network ensures the highest standards of authentication and research. Rare and important paintings, drawings, sculptures, fine prints and photographs are offered in themed auctions such as American, British, Continental, Modern and Old Masters.  
Meet the Specialist