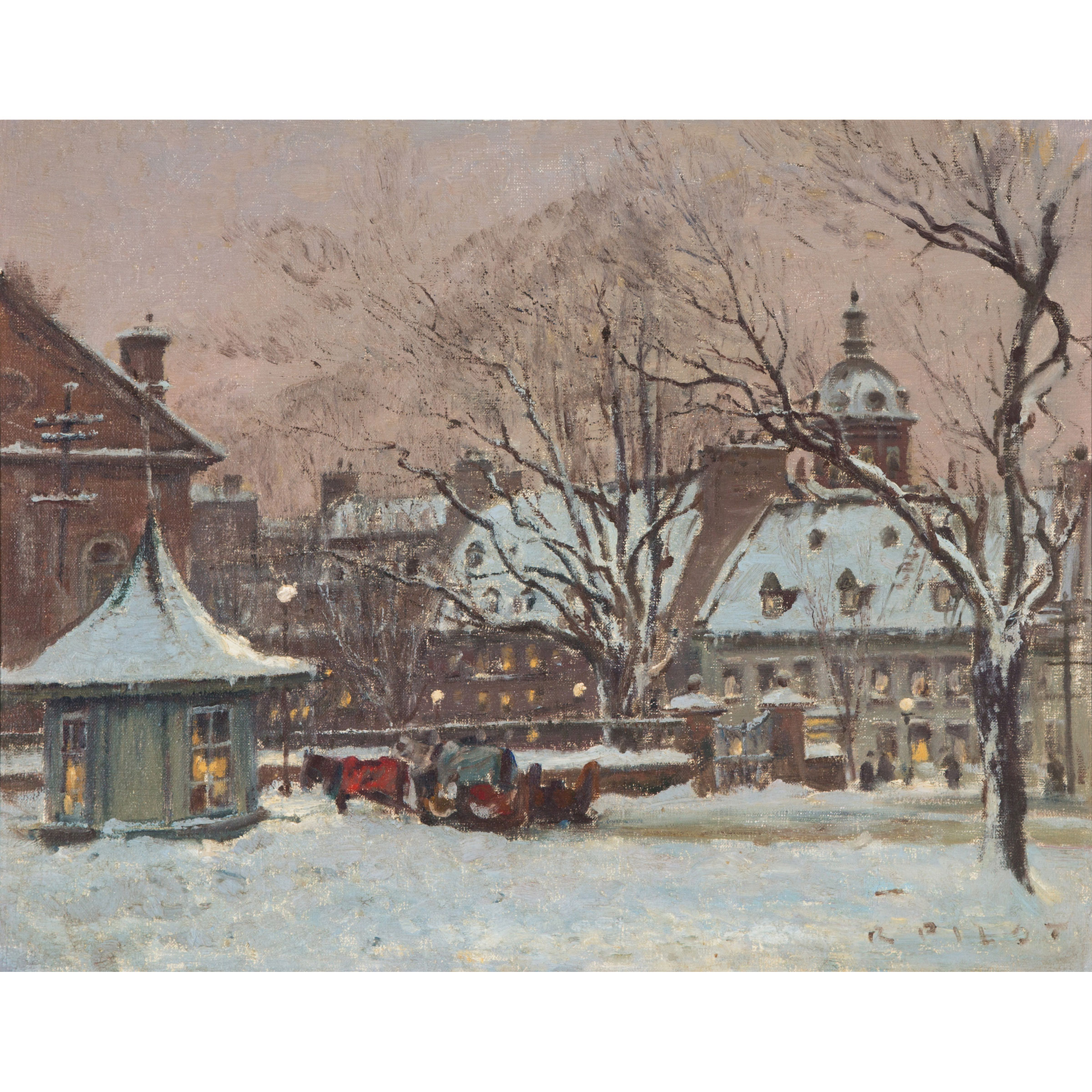 PLACE D'ARMES, QUE.

signed
22 ins x 28.25 ins; 54.6 cms x 69.9 cms

---
May 28, 2018
Estimate $90,000-$120,000
Realised: $132,000
heir apparent of Impressionist painting in Quebec
Born in Newfoundland, his stepfather, and Father of Canadian Impressionism, Maurice Cullen, was the indisputable towering figure of Quebec art at the turn of the century. Pilot apprenticed in Cullen's Montreal studio. Additionally, he was befriended, supported and schooled by William Brymner at the Royal Canadian Academy and received subsequent training at the Art Association of Montreal. Pilot enlisted and served in the army from 1916-1919. Upon his return he re-enrolled in Brymner's classes. Thus, he developed an unwavering commitment to the subject matter as well as the stylistic attributes that their art stood for.
Pilot must have been both a precocious as well as a highly touted student. Just months later, it was Pilot, not Brymner or Cullen to whom the honour was extended, alongside two other Montrealers, Randolph S. Hewton and Albert Robinson to exhibit as guests in the historically significant inaugural exhibition of the Group of Seven at the Art Gallery of Toronto in May 1920. No doubt, Edwin Holgate and A.Y. Jackson had a hand in making these recommendations.
Unquestionably this was an auspicious start for the young artist. He had been identified as a significant contributor to the new school of Canadian landscape painting. However, rather than remain in Canada to evolve these prospects he readily accepted financial backing to study in Paris for two years (1920-1922).
Back in Quebec, he exhibited his 1925 masterwork Quebec from Lévis at the Royal Canadian Academy exhibition. It was purchased by the National Gallery of Canada and subsequently earned him the distinction of being named an Associate of the Royal Canadian Academy of Art. He was elected President of the Royal Canadian Academy 1952-1953 and also elected to the National Academy of Design in the U.S.A.
Pilot lived a long, productive life. He was a principal art instructor in Montreal throughout the periods that issued forth the Beaver Hall Group, The Canadian Group of Painters, the Automatistes, Prisme d'Yeux, and Les Plasticiens.
Canadian Fine Art
Waddington's has been a major force in the Canadian art market for over five decades, beginning with our first auction of Canadian Fine Art held at the Queen Elizabeth Building at the CNE in 1967. Since then we have offered countless important and major Canadian works of art, set record prices and are regarded as the source for buying and selling exceptional Canadian Art.