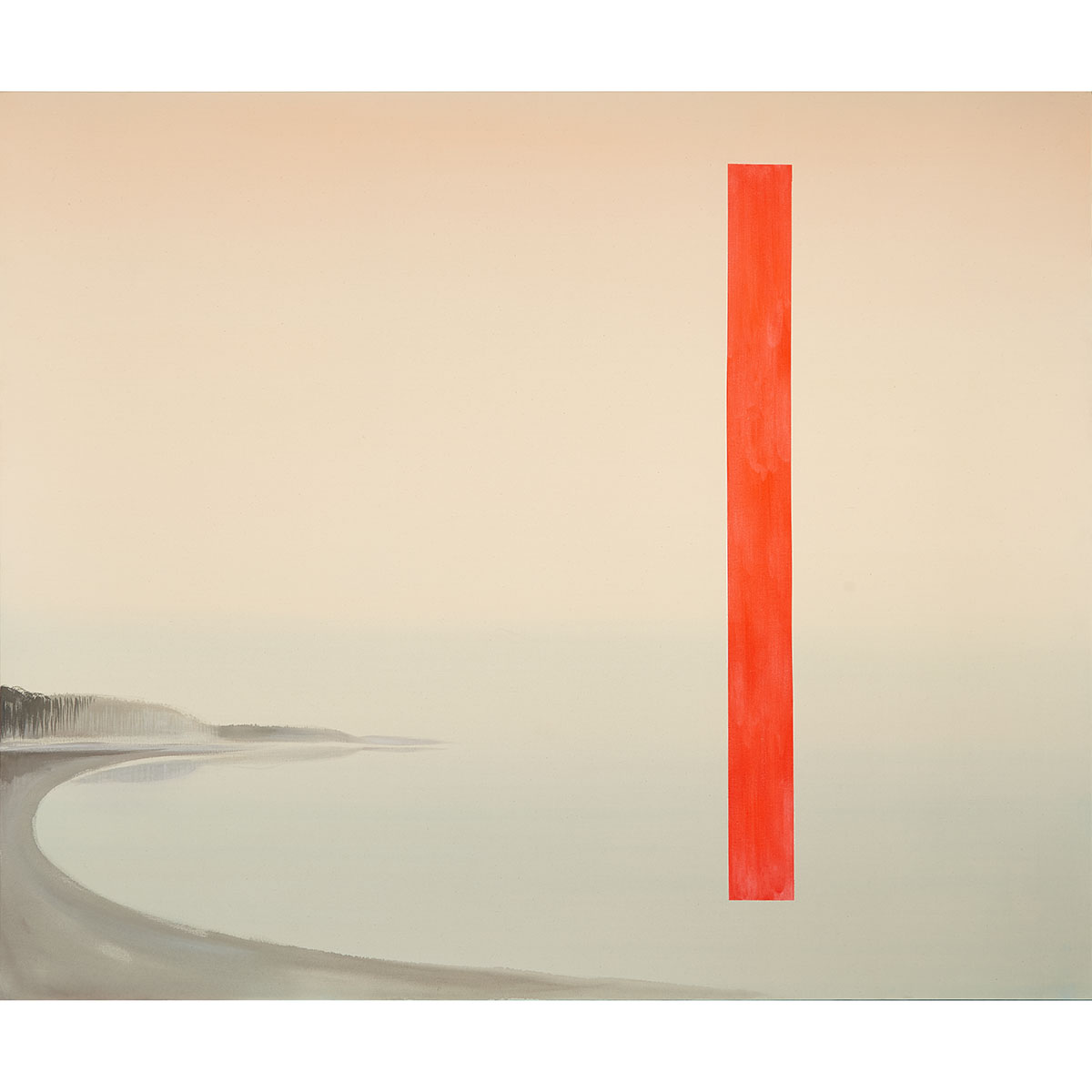 LANDSCAPE WITH RED BAR

signed, titled and dated 2008 on the overflap
79 ins x 95 ins; 200.7 cms x 241.3 cms

---
April 11, 2016
Estimate $20,000-$30,000
Realised: $40,230
"It is, perhaps, this inalienable tie to nature that […] prompts artists to continue to represent the landscape and the viewers to seek out landscape art. And the more nature seems lost, the more sought after it becomes."
Wanda Koop has been reinventing and redefining landscape painting for more than 40 years. Featured in over 50 solo exhibitions, she is a preeminent figure in contemporary Canadian art. Also renowned for her performance and video art, Wanda Koop is an inventive and accomplished multidisciplinary artist.
In Landscape with Red Bar (2008) and View from Here (2009) (lot 31), the striking contrast between the lightly brushed background and the vivid stripes of colour creates an immersive experience for the viewer. Her artwork questions the relationship between the sacredness of nature and the modern technological world.
Wanda Koop was born in Vancouver and currently lives and works in Winnipeg. Her artwork is collected internationally by major public and private institutions such as the National Gallery of Canada, the Musée d'art contemporain de Montréal, the Reykjavik Museum, the Shanghai Museum of Modern Art and the Caldic Collection.  Wanda Koop was awarded the Governor General's Award in Visual and Media Arts, 2016.
Provenance:
The Estate of James Bisback, Ontario
Michael Gibson Gallery, Ontario
Private Collection, Ontario
VIEW FROM HERE (GREY GREEN LANDSCAPE WITH BLACK BOXES)

signed, titled and dated 2009 on the overflap
48 ins x 48 ins; 121.9 cms x 121.9 cms

---
April 11, 2016
Estimate $6,000-$9,000
Realised: $20,400
SATELLITE CITIES (YELLOW/GREEN WITH DARK CITY), 2007

49 ins x 84 ins; 122.5 cms x 210 cms

---
March 05, 2013
Estimate $15,000-$20,000
Realised: $26,400
DUTCH LANDSCAPE #3

signed, titled and dated /98 on the reverse
23 ins x 30 ins; 58.4 cms x 76.2 cms

---
November 27, 2017
Estimate $4,000-$6,000
Realised: $9,600
Canadian Fine Art
Waddington's has been a major force in the Canadian art market for over five decades, beginning with our first auction of Canadian Fine Art held at the Queen Elizabeth Building at the CNE in 1967. Since then we have offered countless important and major Canadian works of art, set record prices and are regarded as the source for buying and selling exceptional Canadian Art.