Lot 226
Large Pale Celadon Jade Carved Ruyi Sceptre, Jiaqing Period (1796-1820)
Lot 226 Details
Large Pale Celadon Jade Carved Ruyi Sceptre, Jiaqing Period (1796-1820)
Elegantly rendered and of impressive size and scale with ruyi shaped head carved in low relief with a basket of plump peaches raised on a cloud base with long vines and tendrils emanating towards the outer rim in a swirling pattern and together with a small bat to the top, the S-curved shaft of thick proportion and decorated with a climbing branch of peaches and a secondary, larger bat along the bottom of the rounded handle, the semi-translucent stone of a pale and even celadon colour
length 16.4" — 41.7 cm.

Estimate $30,000-$50,000
Realised: $347,500
Price Includes Buyer's Premium ?
Additional Images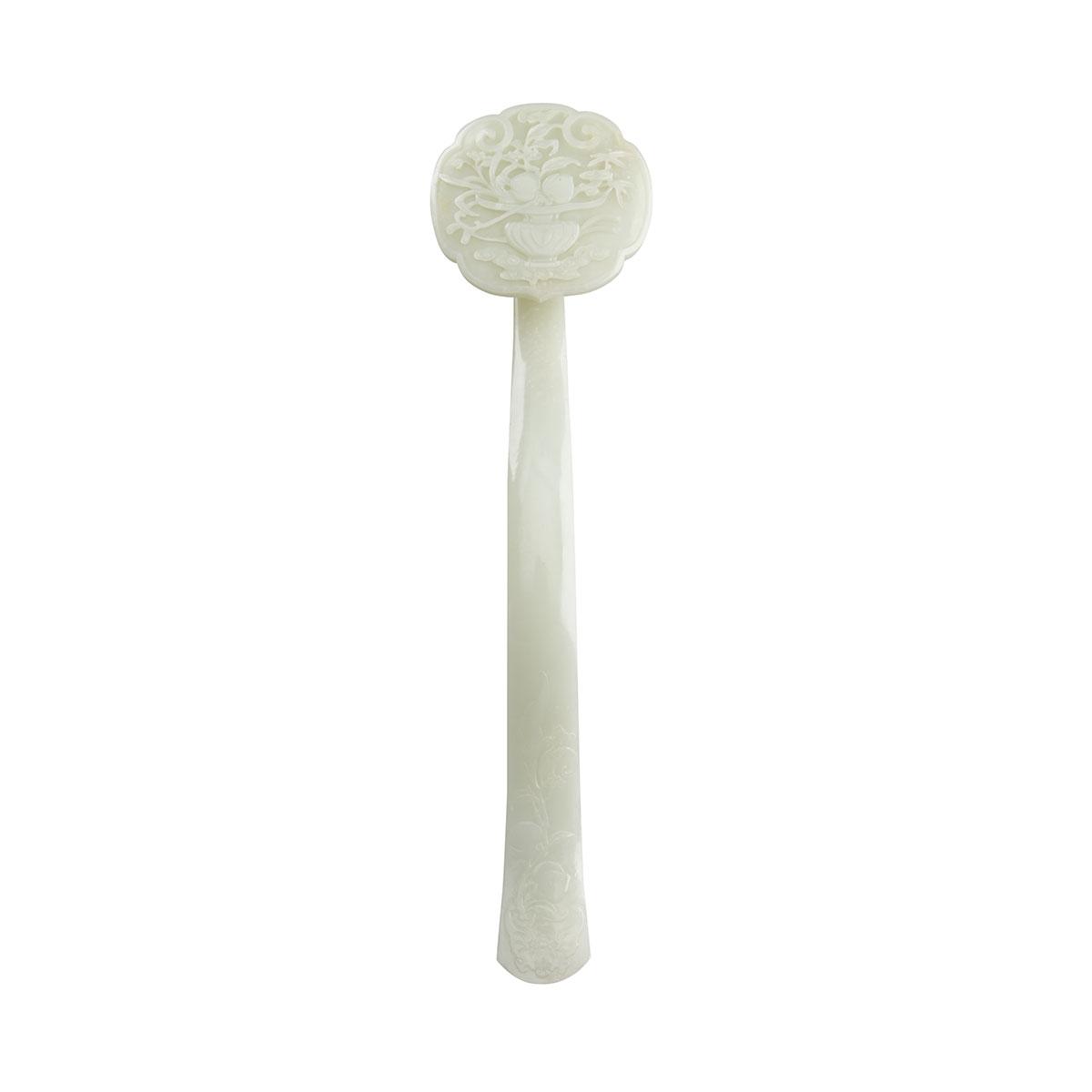 Provenance:
From the collection of Sir Michael William and Lady Wendy Turner, Hong Kong and London. Given as a gift to Sir Turner (1905-1980) (KBE. CBE. OBE. Hon LLD) while he was the Chief manager of The Hong Kong and Shanghai Bank (Later HSBC) between 1953-1962.

Sir Michael William Turner was born in Winchester, England, in 1905. He studied at University College, Oxford with a degree in military history and a stint on the English national field hockey team. Upon graduation, he joined the London HSBC office and was then posted to Shanghai. On his second tour in Shanghai he met and married Wendy Stranack (later Lady Turner), but was subsequently transferred to Singapore where he was interned in Changi jail for the duration of WWII. It took him six months for Sir Turner to recover from the camp, and afterwards, he resumed his business career and succeeded Sir Arthur Morse as Chief Manager of HSBC in 1953 where he was instrumental in the considerable post-war expansion of the bank. Following retirement in 1963 he served as Chairman of the British Bank of the Middle East. Sir Turner died in London in 1980. A Turner room in the main Hong Kong branch of HSBC commemorates his services to the bank. During his time in Hong Kong he and Lady Turner acquired a number of Chinese jade carvings, porcelain, and works of art.

Note:
The ruyi or "wish granting" sceptre is one of the most auspicious symbols in Chinese art and during the Qing dynasty was customarily presented to the Imperial family as well as members of the upper classes on significant occasions such as birthdays, betrothals, or weddings. Fashioned from a variety of media including wood, gold, silver, or as seen in this present example, carved from jade or other types of precious or semi-precious stone, most sceptres followed a similar form with curved handle joining a cloud or lingzhi-shaped head. These sceptres were then further embellished with auspicious symbols relevant to the occasion and recipient. Decorated with bats and plump peaches, symbols of happiness and longevity respectively, suggests that this sceptre was possibly fashioned in honour of a milestone birthday. For a sceptre of comparable size but listed as 'pale greyish olive-green', see Christie's New York 'A Collecting Legacy: Fine Chinese Jade Carvings and Works of Art from the Lizzadro Collection Part II", September 19, 2013, lot 1207.