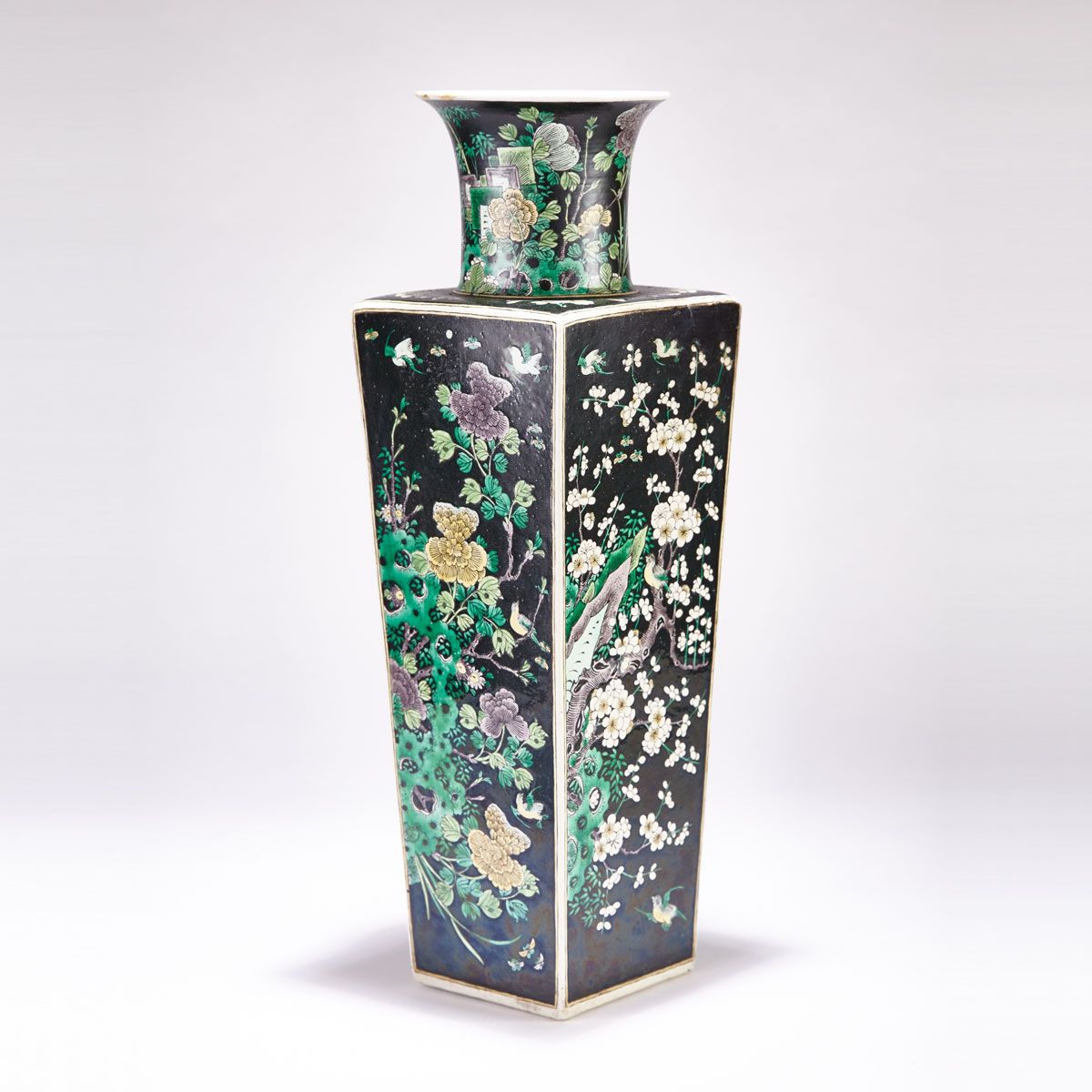 100
A Large Famille Noire 'Four Seasons' Porcelain Vase, Chenghua Mark, 19th Century or Earlier
19世紀或更早 成化款 墨地素三彩花鳥圖四方瓶
Heavily potted and of flared square form, profusely enameled on each black-ground face with a floral motif, including prunus (winter, signalling spring), peonies (spring), lotus (summer), and chrysanthemums (autumn)
height 20.3" — 51.6 cm.

Estimate $1,000-$1,600
Realised: $1,968
Price Includes Buyer's Premium ?
About artist/note:
A Kangxi Period example with a similar Chenghua mark from the J.P. Morgan Collection was sold at Sotheby's Paris, June 9, 2011, lot 197. This same piece was also exhibited at The Metropolitan Museum of Art, New York, prior to the sale.
Provenance:
The Collection of Harold Gordon Groves (lots 85-120)

Harold Groves was a true collector; passionate, dedicated and curious. He amassed his collection over sixty-five years, and was meticulous in its procurement, operating with the principle that one ought to purchase the highest quality piece they could afford, and then upgrade it whenever possible. He learned as much as he could about the artists and their craft, informing himself through reference books and art texts, which helped enlighten the process of his collecting. He also travelled extensively through Europe and Asia in the 1960s and 1970s, not only to seek pieces, but to learn about the artists, witness their craftsmanship first hand, and immerse himself in the culture that bore the art. Harold became a respected member within the community of collectors, with fellow experts often seeking his advice and guidance. Several pieces of his collection were also displayed in museum exhibits and galleries across North America. Harold's deep and enduring passion for Asian art was truly inspiring, and motivated his children to build art collections of their own.