Lot 47
JAMES EDWARD HERVEY MACDONALD, O.S.A., R.C.A.
Lot 47 Details
JAMES EDWARD HERVEY MACDONALD, O.S.A., R.C.A.
GEORGIAN BAY, CIRCA 1914-1915
oil on panel
inscribed "Dr. MacCallum" in pencil on the reverse
4 ins x 6 ins; 10.2 cms x 15.2 cms

Estimate $35,000-$45,000
Realised: $45,600
Price Includes Buyer's Premium ?
Additional Images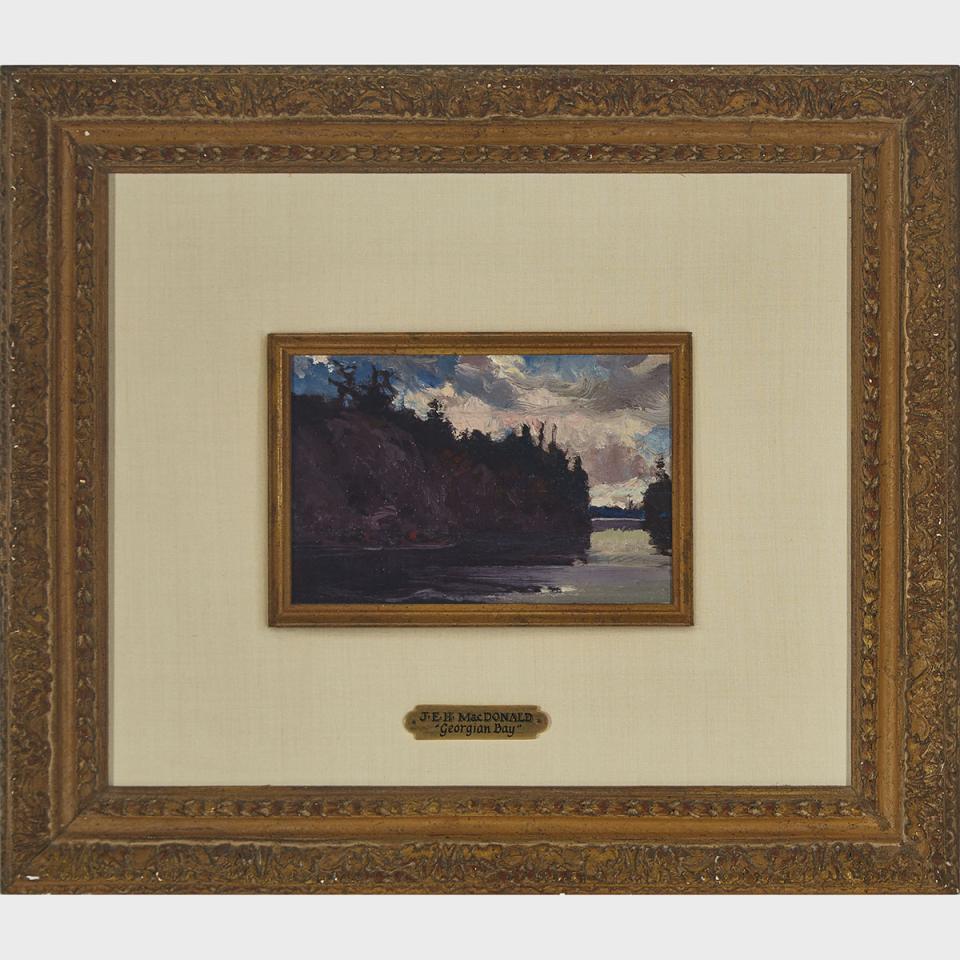 Provenance:
Estate of Dr. James MacCallum, Toronto
Kaspar Gallery, Toronto
Private Collection, Toronto
Literature:
Nihls Ohlsen, "Reflections of Scandinavian Painting in the Work of Tom Thomson and the Group of Seven," in Painting Canada: Tom Thomson and the Group of Seven, Dulwich Picture Gallery, Dulwich, England, 2011, page 50.

Charles C. Hill, Art for a Nation: The Group of Seven (catalogue), National Gallery of Canada, Ottawa, 1995, pages 48 and 59.

Bruce Whiteman, JE.H. MacDonald, Quarry Press, Kingston, 1995, pages 9-10, 29.

Paul Duval, The Tangled Garden: The Art of J.E.H. MacDonald, Cerebrus/Prentice-Hall, Scarborough, Ontario, 1978, page 45.

E.R. Hunter, J.E.H. MacDonald: A Biography and Catalogue of his Work, The Ryerson Press, Toronto, 1940, pages 9-10.
Note:
In the canon of Canadian painting there is no shortage of research and reverie about James Edward Hervey MacDonald (1873-1932), the poet-painter and co-founder of the Group of Seven. Nor is there any lack of strong sentiment for Georgian Bay, the playground of the Toronto Establishment and, as such, a good subject for artists who recognize the benefit of predictable patronage. Nonetheless, this diminutive landscape dated to 1914 belies an even greater story that began with MacDonald in the early teens of the twentieth century and impacts Canadian landscape painting to this day.

As Charles Hill points out in his seminal work, The Group of Seven: Art for a Nation, by 1914 the new movement in Canadian painting which would become known as the Group of Seven had coalesced. MacDonald had met and knew all members of the Group as well as Tom Thomson. These painters socialized at the Arts and Letters Club on Elm Street in Toronto, exhibited their work in OSA shows and painted together - mostly on weekends - both in the field and in the newly erected Studio Building on Severn Street in the Rosedale Ravine.

But it was in January 1913 that MacDonald and Lawren Harris had visited the Albright-Knox Gallery in Buffalo to view a unique exhibition focusing on the work of Scandinavian painters. The trip gave shape to the nascent ideas the friends had been formulating. As a result of this visit and exposure to counterparts from northern Europe, MacDonald realized he shared "associated ideas" with them and was encouraged with Harris to forge a distinct path to a purely Canadian art movement. MacDonald, with Harris, had become the disruptors of their generation.

MacDonald was and is known for his exceptional talent with design. C.W. Jefferys writing about him in a review in the LAMPS (the publication of the Arts & Letters Club) emphasized not just the application and style of paint and painting but, specifically, the design of his work. MacDonald's "selection and arrangement" was what impressed him most. Jefferys wrote: "I fancy that his method lays quite as much stress upon the selection of the point of view and arrangements that best express the sentiment and character of these as it does upon the expression itself." In Georgian Bay, what lies around the curve of the shoreline remains mysterious and creates a loaded, even romantic, tension.

Writing about Scadinavian painting of the two decades after 1890, Nils Ohlsen references Stimmungsmalerei (mood painting) "in which the painted landscape represents the landscape of the soul." He continues: "Such idealised images, conceived and constructed around a certain mood, typically feature transitions from day to night for example, or from autumn to winter or sunlight to stormy weather. Nature appears as a locus of an emotional experience, inviting empathetic immersion in a mood more than physical exploration in the mind's eye. Reflections, for instance can function as echoes of psychological states, distant mountain ranges as focuses for longing. These thematic, compositional and atmospheric aspects of Scandinavian landscape painting recur in the work of Thomson and the Group of Seven." Certainly, mood is as much the subject of this lot, as geography, a universal feeling evoked by MacDonald's composition trumping any specific associations we may have with the place.

On the reverse of this painting is the name "James MacCallum" written in pencil. By 1911 MacDonald knew Dr. MacCallum, a successful Toronto opthamologist, who had a cottage in Georgian Bay at Split Rock Island. It was MacCallum, who, with Lawren Harris, had persuaded MacDonald to leave his position as a graphic designer and devote his whole time to painting. According to Paul Duval, MacCallum first invited MacDonald to his cottage in 1912. E.R. Hunter, considered to be MacDonald's first biographer, notes that often a "feeling of being overwhelmed at first is noticeable in MacDonald's works when he faces a change of country." It is true that it took time for MacDonald to master his subject and we see evidence of this in other phases of his career, most particularly in his mountain pictures. MacDonald's handling was about to change dramatically when the Group began travelling further north – MacDonald in particular would forever be associated with the body of work he produced in Algoma. But Georgian Bay should not be read as a dress rehearsal for these later works. Like a chrysalis, this work contains within it the ingredients of what was to come not only from MacDonald's brush but from that of his confrères. Like the major works that followed, such as Solemn Land, 1921, whose secret, says Bruce Whiteman "lies in part in the masterly balance MacDonald has achieved between design and spiritual tone", Georgian Bay, 1914 shows a mastery of mood, colour, composition, design, balance and selection that results in a titanic emotional reaction that seems steeped both in memory and pure feeling.