Lot 35
NORVAL H. MORRISSEAU, R.C.A.
Lot 35 Details
NORVAL H. MORRISSEAU, R.C.A.
OJIBWA INDIAN THUNDERBIRD ART FORM, C.1993
acrylic on canvas
signed in syllabics; also signed and titled on the reverse
57.75 ins x 49 ins; 146.7 cms x 124.5 cms

Estimate $30,000-$50,000
Realised: $40,800
Price Includes Buyer's Premium ?
Additional Images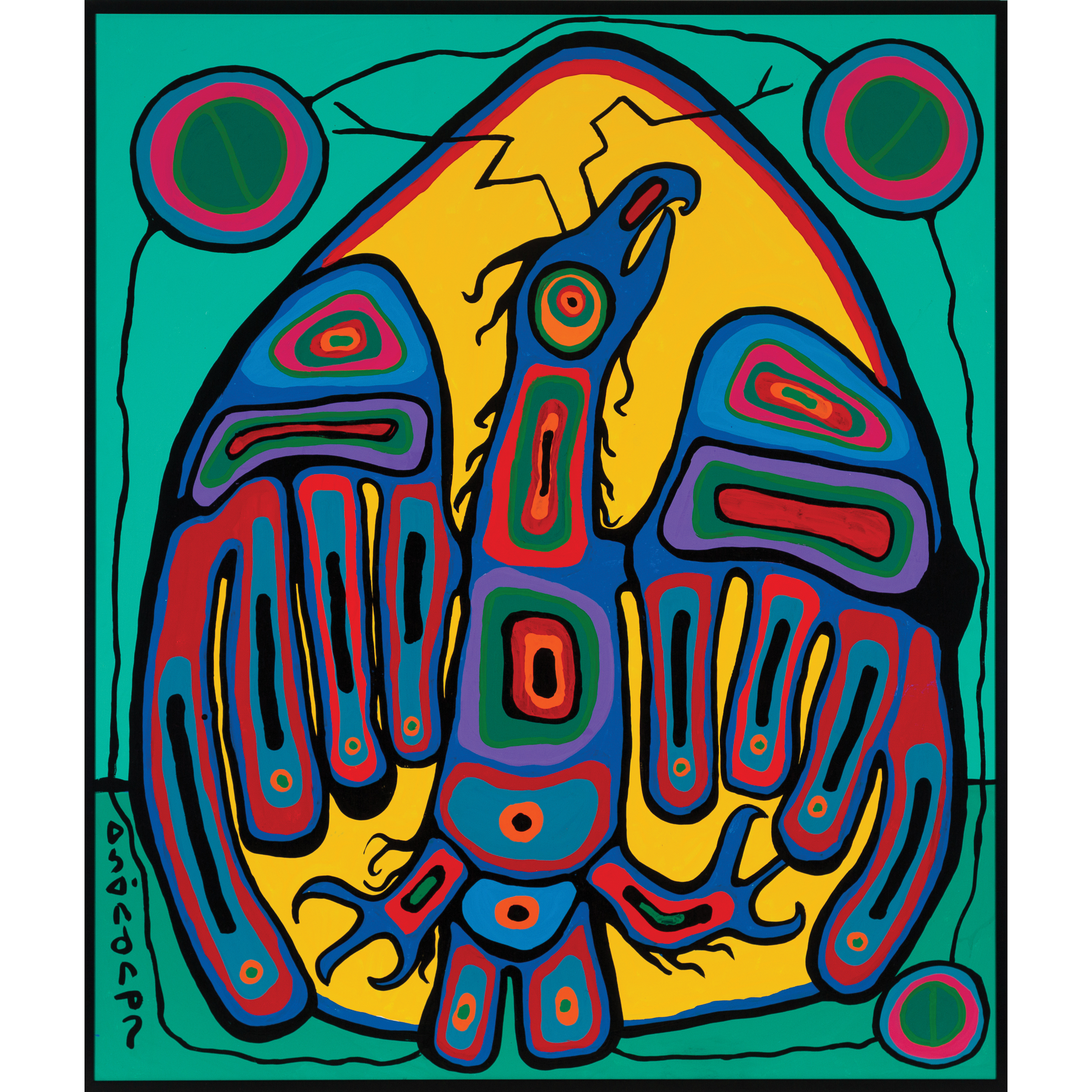 Provenance:
Jenkins Showler Gallery, White Rock, British Columbia
Private Collection, Montreal
Note:
Norval Morrisseau is considered to be the grandfather of contemporary Indigenous art in Canada. He inspired a group of artists known as the Woodland School, advocated for emerging Indigenous artists, and was awarded the Order of Canada in recognition for his significant contribution to Canadian art.

Morrisseau, whose art was based on the culture and spiritual teachings of the Anishinaabeg, came to identify himself with Thunderbird, a powerful spirit-being. As a young man, Morrisseau was given the name "Copper Thunderbird" during a healing ceremony to cure him of a serious illness. By the 1970's, he was presenting himself as a shaman artist, with his work taking on a hybrid spirituality drawn from Anishinaabe, Christian and Far Eastern sources.

Ojibwa Indian Thunderbird Art Form exhibits all the characteristics of a mature Morrisseau painting. It features the image of Thunderbird with outstretched wings, outlined in black and divided internally into boldly coloured shapes. The choice of complementary colours — predominant blue against a yellow ground – gives this iconic image a mesmerizing quality. The border contains three divided circles. The divided circle, signifying duality was Morrisseau's favourite motif. Here, they are connected to the spirit-being by "power lines," indicating the nature of the being. The painting carries Morrisseau's signature in Cree syllabics.

We thank Christine Boyanoski for contributing the above essay.