Inuit Art
December 04 — 09, 2021
Auction begins to close at 7:00 pm ET
Lot 82
TUDLIK (1890-1966)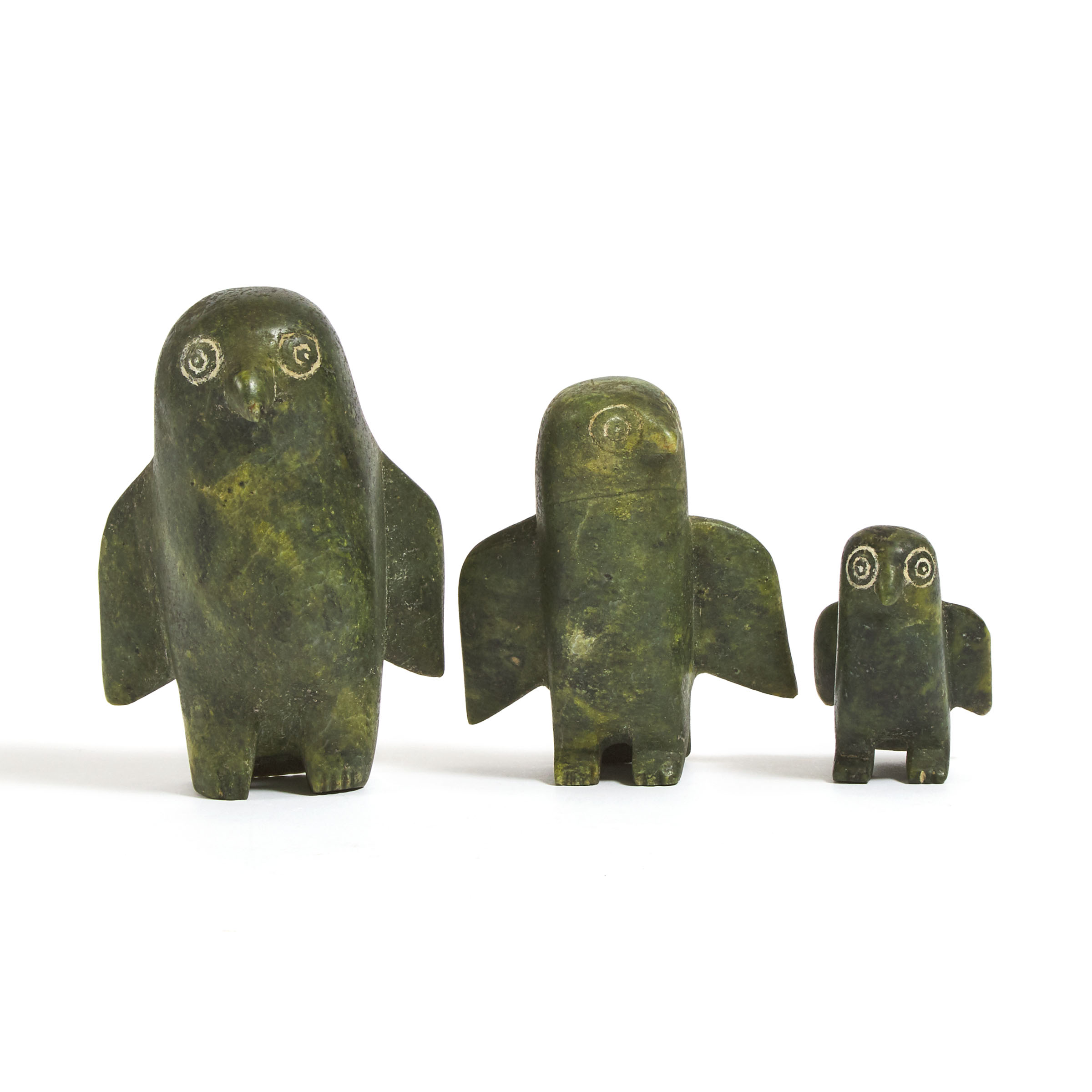 Lot 82 Details
TUDLIK (1890-1966), Kinngait (Cape Dorset)
FAMILY OF OWLS
stone
unsigned, circa 1955
6 x 4 x 2 in — 15.2 x 10.2 x 5.1 cm

Estimate $4,000-$6,000
Realised: $14,640
Price Includes Buyer's Premium ?
Provenance:
Fred and Laura Reif Collection of Inuit Art, Berkeley, CA
Note:
In looking at Tudlik's iconic owls, it is remarkable to consider that they were carved by an artist born in 1890. Effortlessly modern, their plump masses and truncated arrow-shaped wings are charged with sign-like directionality and clarity of form.

Tudlik's eyesight was significantly diminished by the late 1950s. Scholars sometimes hint at this impediment as the source of the simplicity and tactility in his work. [1] Whatever the reason, Tudlik's genius for refinement and his grasp of the essential in his subject matter is unquestionable. "Families" of owls carved by Tudlik are almost unknown to the market, and yet he appears to have conceived some as groupings. One such grouping (contemporary to the examples offered here and dated 1957) is illustrated in the 1971 publication Sculpture/Inuit (p. 196).

Here Tudlik's owls are again presented as a family. This adds an interactive dimension through the interplay of their shifting postures, and alert eyes. The composition is pure Tudlik through and through--a joy to behold.


Related works:

See: Houston, James, George Swinton, William E. Taylor Jr. Sculpture/Inuit. Toronto: University of Toronto Press, 1971. p. 196.

References:

1. Swinton, George. Sculpture of the Eskimo. Toronto: McClelland and Stewart Ltd. 1972. p. 8.