Lot 67
SHUVINAI ASHOONA (1961-)
Lot 67 Details
SHUVINAI ASHOONA (1961-), Cape Dorset / Kinngait
HOLDING A DRAWING OF THE EARTH, 2011
coloured pencil drawing
signed in syllabics
25.5 x 19.75 in — 64.8 x 48.3 cm

Estimate $1,500-$2,500
Realised: $6,600
Price Includes Buyer's Premium ?
Additional Images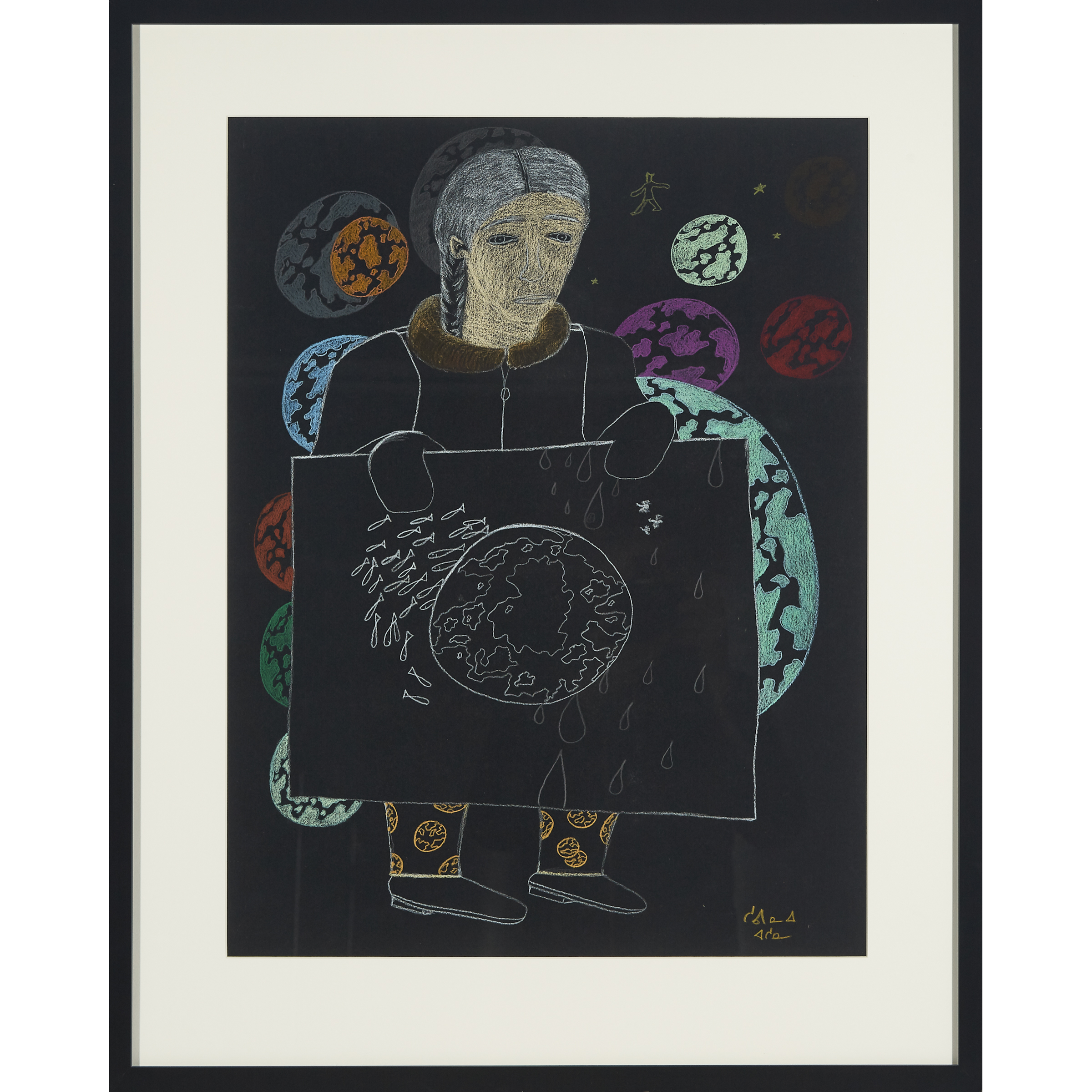 Provenance:
Feheley Fine Arts, 2012
Miriam Shiell Fine Art, Toronto
Note:
Known for her colourful, bold and highly imaginative works on paper, Shuvinai Ashoona combines scenes of daily Inuit life with personal memories and collective myth. Ashoona has a knack for representation that reveals the very human balance between warmth, optimism, longing and melancholy. Her images have a tendency to extend their reach beyond the picture frame, connecting directly to the thoughts and emotions of the people who view them.

This drawing, and lot 71, Composition (Group of Figures) are characteristically colourful and full of texture, acting as perfect examples of a uniquely bold and finely tuned style for which Ashoona has become known. In both cases, the subjects' gazes are directed away from our own, adding a layer of mystery to the works that calls out for personal interpretation.

In Holding a Drawing of the Earth (Lot 67), we are presented with an artist's rendition of an artist. Surrounded and adorned by a colourful array of planetary orbs, the subject stands at gentle attention, beckoning us to bear witness to her depiction of a majestic and mournful world. In the top right-hand corner, Ashoona has included a tiny figure and three stars. Like an orbiting totem, personification of an inner voice, or embodiment of ancestors, the figure fuels the imagination and adds another layer of mystery to the story being told.

The tight frame of stacked figures in Composition (Group of Figures), Lot 71, offers a snapshot of community and diversity, where all of the action happens in a place that only Ashoona and her subjects can see.

Please also see Lot 71.




Alex Bowron is a freelance art-writer and manager of programs and partnerships at Canadian Art. She holds a Masters degree in critical cultural theory from the University of Leeds, UK.