Selling Wine & Spirits at Waddington's
Waddington's is dedicated to achieving record prices and the highest sell-through rates for all our clients.
We are the only Ontario auction house under the authority of the LCBO to assist wine collectors sell and manage their cellars.
The Consignment Process
Before consigning your collection with Waddington's we first establish an auction value for your wines. This is done by providing our wine specialists with an itemised list of your collection, per our Excel-based template, who will value each item. The valued list will then be returned to you within 5-10 business days for your approval.
Our specialists will ask about your collection to determine if it meets the consignment requirements set by our wine specialists and the LCBO. Question topics will include cellar or storage conditions, provenance, and your opinion of any of the wines you have tasted.
Upon acceptance of our valuation, our specialists will walk you through the consignment terms, including all fees, before assisting you with completing a consignment contract.
Our specialists will then assist you in determining the best manner of shipping your collection to our secure Toronto-based storage facility. Once your collection is on-site our specialists will inspect each bottle and catalogue accordingly.
A complete catalogue of the entire auction will be produced approximately 2-3 weeks before the auction, as an online catalogue.
You will be sent a post sale accounting of the results of your consignment within 1-3 business days following the auction, with a final and complete accounting 35 days after the auction, along with a cheque for your auction proceeds.
Example: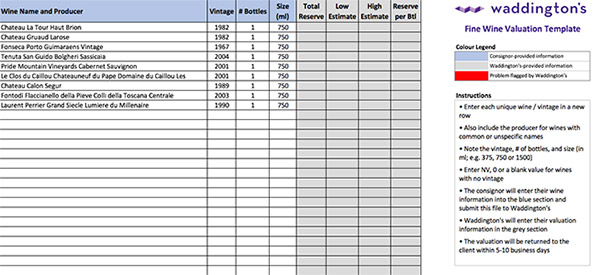 Wine Excel Template Download (XLSX)
Spirits Template Download (XLSX)
Click here for detailed information about ullage and bottle formats
Full Service Consignments
Because large cellars can be overwhelming, or maybe you simply don't have the time required to inventory your entire collection of fine wines, Waddington's is pleased to offer full service consignments.
Our wine specialists will visit your cellar, inventory your wines, and package them for shipping to our secure storage facilities.
Approximately 5-10 business days after our visit, you will receive an inventory of your entire collection, complete with auction values and an information package on consigning to our auctions. We will then take care of shipping and storing your collection.
Our specialists will guide you every step of the way, with the care, expertise and transparency Waddington's is known for.
The rate for this service is $300 an hour, with a minimum of one hour.
Consignment Fees
We charge the consignor a commission based on a percentage of the hammer price on each lot. Please see the standard commission rates below.
Insurance
Insurance is charged at 1% of the hammer price; all items are insured while stored at our wine storage. The insurance charge may be waived with proof of independent coverage.
Compound Consignor Commission
Under $8,000 – 20%
$8,001 to $49,999 – 15%
$50,000 to $99,999 – 10%
$100,000 to $199,999 – 7.5%
$200,000 and over – 5%
Photography
$20 per lot
Wine Storage
Due to the fragile nature of fine wines, all consigned wines are stored in our own secure climate-controlled environment, and are fully insured while on premises.
Catalogue Notes
Robert Parker's Wine Advocate, www.RobertParker.com is the copyrighted owner of scores and tastings referenced on our website and catalogues.
Frequently Asked Questions
» Do I have to enter my entire collection into the Excel valuation form?
Yes. All items are required to have an established value prior to consignment, as required by our insurance policy and the LCBO. Entering your collection into our valuation template is the first step in getting these items valued.
Note that we offer a Full Service Consignment option, of which our specialists will visit your cellar to itemise and value your entire collection for a modest fee.
» How far in advance should I consign my items?
Because wine requires delicate care and thorough inspections, we require all items for an auction be consigned no later than approximately 9 weeks before the auction. Please visit our auction calendar for consignment deadlines or contact us at [email protected]
» What are the terms for consigning to your wine auctions?
We recommend you contact our specialists directly for information on the process of consigning, including the terms. However, the full terms are available here: Wine & Spirits Consignor Terms of Sale – Schedule A
» Is there a minimum number of wines required to consign?
While there is no minimum number of wines or bottles to qualify for consignment, we do have a minimum overall value required. Please contact our specialists for more information.
» I am not sure about my wine's provenance. Can I still consign?
Unfortunately, no. Buyers place great trust in Waddington's to thoroughly investigate the condition and provenance of each wine we offer at auction. We require detailed information on when and where the wine was purchased, and how it has been stored. We may also ask you about the quality of the wine if you have tasted any bottles from your particular consignment.
» How do you value wines?
We look at a number of sources, primarily the results from a number of auction houses, including our own. We take many variables into account, such as the condition of the wines, market trends, the format of the wine, wine scores, and overall saleability.