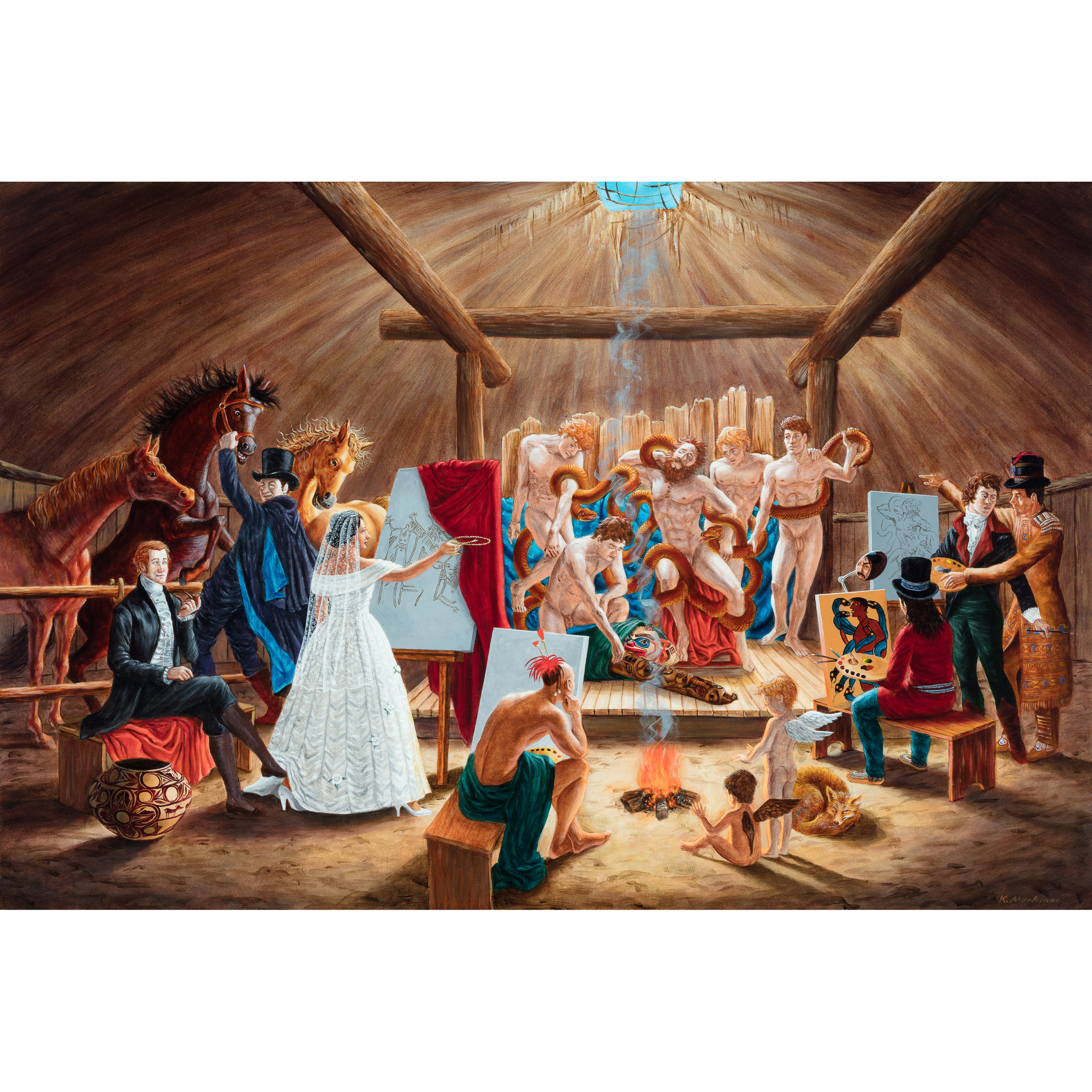 STUDY FOR THE ACADEMY, 2008

signed
24 ins x 36 ins; 61 cms x 91.4 cms

---
November 18, 2019
Estimate $40,000-$50,000
Realised: $108,000
Perhaps no work represents our commitment to contemporary Canadian art more than the inclusion of Kent Monkman's, Study for the Academy, 2008, in our Fall 2019 Canadian Fine Art auction.
One of only two studies by the artist for the major canvas commissioned by the Art Gallery of Ontario, this fully-realized work came to market at a pivotal time as Monkman prepares to unveil two major works commissioned by the Metropolitan Museum of Art in New York in December 2019.
Kent Monkman, born in Canada in 1965, is a Cree artist who is widely known for his provocative interventions into Western European and American art history. He explores themes of colonization, sexuality, loss, and resilience—the complexities of historic and contemporary Indigenous experiences—across a variety of mediums, including painting, film/video, performance, and installation. Monkman's gender-fluid alter ego Miss Chief Eagle Testickle often appears in his work as a time-traveling, shape-shifting, supernatural being who reverses the colonial gaze to challenge received notions of history and Indigenous peoples.
With Miss Chief at center stage, Monkman has created site-specific performances at the Royal Ontario Museum, the Smithsonian's National Museum of the American Indian, Compton Verney, and the Denver Art Museum. His painting and installation works have been exhibited at numerous institutions including the Musée des Beaux-Arts, Montréal; the Musée d'art contemporain de Montréal; the Art Gallery of Ontario; the National Gallery of Canada; the Des Moines Art Centre; Crystal Bridges Museum of American Art; Witte de With Centre for Contemporary Art; the Musée d'art contemporain de Rochechouart, France; the Musée d'Art Contemporain du Val-de-Marne, France; Maison Rouge, Paris; and the Palais de Tokyo, Paris. Monkman's second nationally touring solo exhibition, Shame and Prejudice: A Story of Resilience, will visit nine museums across Canada until 2020. In 2019, Kent accepted a commission from the Metropolitan Museum of Art in New York City to produce two large-scale works to hang in the museum's Great Hall.
Monkman's award-winning short film and video works have been screened at various international festivals including the 2007 and 2008 Berlinale and the 2007 and 2015 Toronto International Film Festival. Many of his media works are made with his longtime collaborator, Gisèle Gordon. Monkman has been awarded the Indspire Award (2014), the Hnatyshyn Foundation Visual Arts Award (2014), the Bonham Centre Award (2017), an honorary doctorate degree from OCAD University (2017), and the Premier's Award for Excellence in the Arts (2017).
Visit the artist's website to read more.
Canadian Fine Art
Waddington's has been a major force in the Canadian art market for over five decades, beginning with our first auction of Canadian Fine Art held at the Queen Elizabeth Building at the CNE in 1967. Since then we have offered countless important and major Canadian works of art, set record prices and are regarded as the source for buying and selling exceptional Canadian Art.