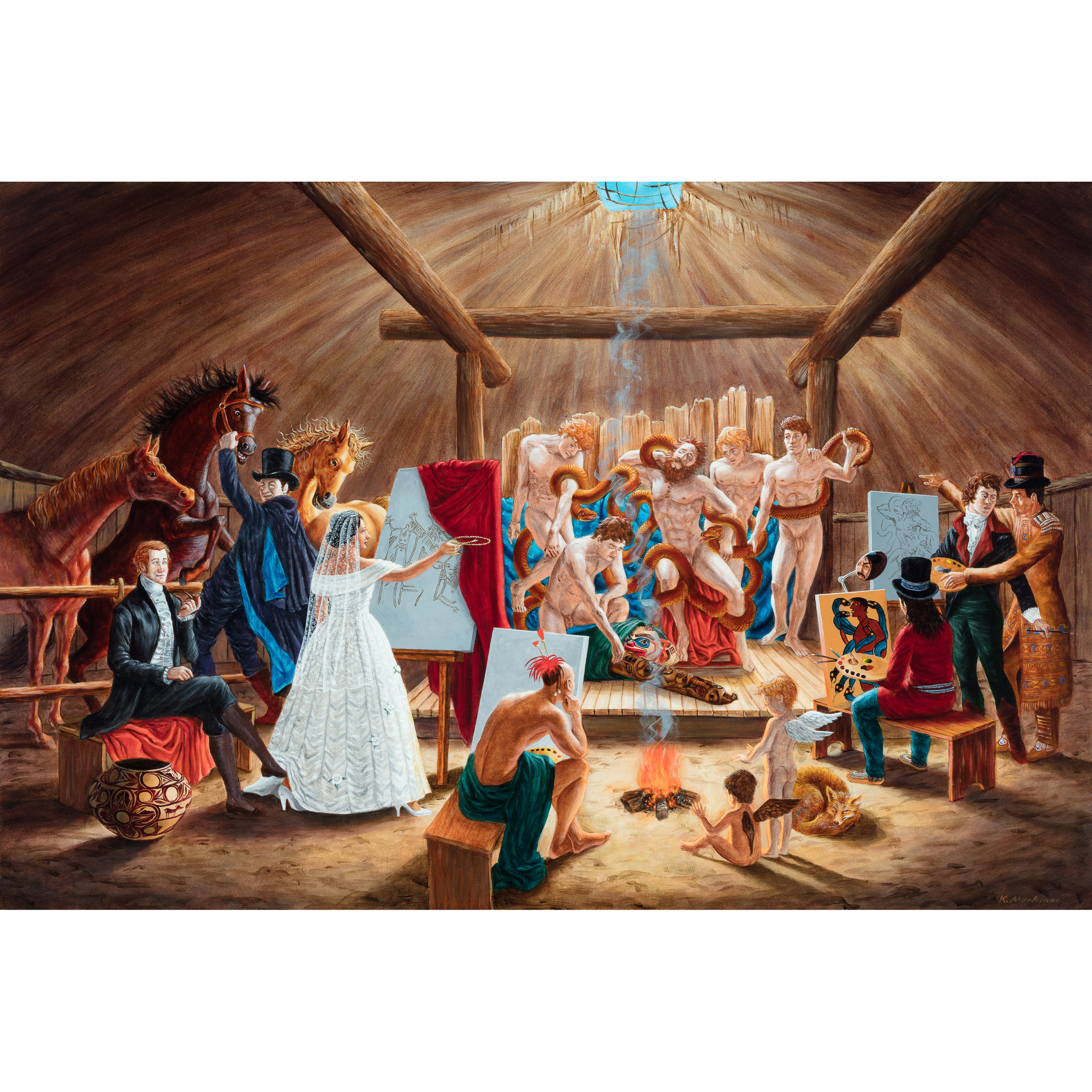 Lot 59 Details
KENT MONKMAN
STUDY FOR THE ACADEMY, 2008
acrylic on canvas
signed
24 ins x 36 ins; 61 cms x 91.4 cms

Estimate $40,000-$50,000
Realised: $108,000
Price Includes Buyer's Premium ?
Additional Images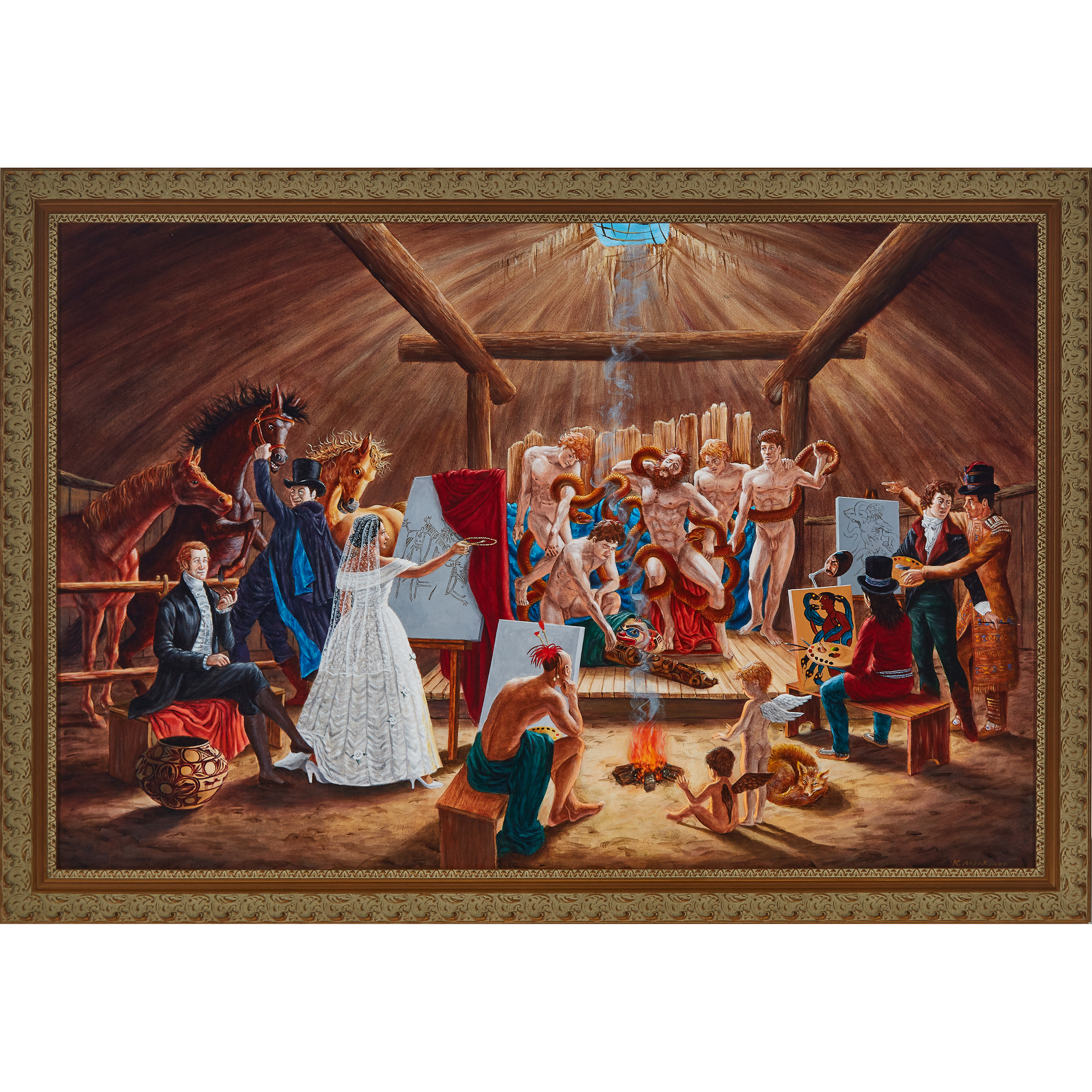 Provenance:
Private Collection, Toronto
Patel Gallery, Toronto
Note:
The appearance of Kent Monkman's Study for The Academy at auction is an unprecedented opportunity to acquire a full compositional study for his major canvas The Academy, in the collection of the Art Gallery of Ontario, that has been on almost constant view to millions of visitors since November 2008. The powerful and popular work was editioned by the artist as an etching in 2011 and a giclée print in 2016.

Born to a Cree father and English-Irish-Canadian mother, Monkman contains cultural multitudes that echo throughout his work as an illustrator, performance artist, and most notably as a painter. The space between cultures in flux defined the paintings of the first decade of his career in the early 2000s when the imagery of 19th-century American and European art became the basis for his reclamation of the landscape.

In preparation for the opening of the Frank Gehry building, AGO curators Gerald McMaster and David Moos discussed a commission with Monkman. By January 2008 it was agreed Monkman would make a painting indicative of his current work with subject matter relating to works held by the AGO.

Monkman derived his composition of an artist's atelier from 19th-century Swiss artist, Karl Bodmer's The Interior Hut of a Mandan Chief. The tableau is a hybrid of another 19th-century work by Jean-Henri-Cless, Un atelier d'artiste, presume être celui de David, with the AGO's Neoclassical Zeuxis choissant des modèles by Nicolas André Monsiau. Mining the AGO's collection, he extracted Massimiliano Soldani-Benzi's Baroque Castor and Pollux, French-British-Canadian painter George Theodore Berthon's portraits of William Henry Boulton and his wife Harriet, the naked children from Paul Peel's After the Bath, Auguste Rodin's Adam, and Norval Morrisseau's Self-Portrait Devoured by Demons.

From European and Indigenous art he drew on the homo-eroticism of the Classical Laocoön, a Zuni pot, Benjamin West's The Death of General Wolfe, and historic Indigenous art on loan for the AGO's reopening. Among the latter is a model totem pole by Charles Edenshaw bulging through the green drapery on the riser, and the magnificent Cree quilled and fringe-hide costume worn by Monkman as he tutors Jacques-Louis David on centre-right.

Monkman's shrewd knowledge of contemporary art filters through his evocation of the critical-parodic painting of Mark Tansey, and cowboy-erotic painting of Delmas Howe.
The sum of the painting's parts is distinctly Monkman's. His tableau conveys the fullness of his thought in a painting that reconfigures the history of art to communicate the complexities between cultures.

We thank Gregory Humeniuk for contributing the above essay.