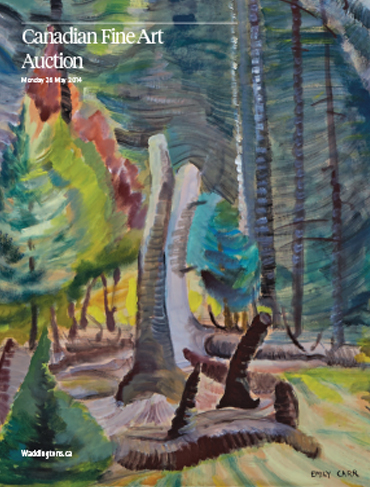 Auction includes Canadian masterpieces representing every school and period
Over $5 million of Canadian Art to go under the hammer at Waddington's on May 26, 2014
Toronto, Ontario May 5, 2014 – On the evening of May 26, 2014, Waddington's will sell 165 works of Important Canadian Art. The auction is expected to realize between $5 and 7.5 million. The sale is a culmination of a three-month selection process of meeting with potential consignors to evaluate works for possible inclusion in this auction. A number of works being offered have been featured in gallery exhibitions at the National Gallery of Canada and other important Canadian institutions.
As expected from Waddington's, a 164-year-old firm which has been conducting Important Canadian Art sales in this country since 1967, major paintings by members of the Group of Seven and their contemporaries will go on the block. An important Lake Superior canvas by Lawren Stewart Harris (estimate $2,500,000 – 3,000,000) anchors the historical portion of the sale.
Linda Rodeck, Vice President, Fine Art of Waddington's comments: "We are thrilled to have been entrusted with Lake Superior which has been off the market since it was originally acquired by our client from the Harris family in the early 1950s. We have a strong indication from the collecting community that this painting could set a new record for Harris and, if the stars align on May 26, a new record for a Canadian painting sold at auction. It is important to understand that works by Harris – of this size, period and calibre – are exceptionally rare."
A second major canvas by Lawren Harris has been called "a landmark of his career." Rodeck says, "Street Scene, ca. 1921, will not surprise anyone by surpassing its $400,000 – 600,000 'come-hither' estimate. It is a masterful, captivating work."
Waddington's has been entrusted with a 1914 oil sketch executed at Canoe Lake by A.Y. Jackson painted during a period when A.Y. Jackson shared a close camaraderie with Tom Thomson. The painting is prescient of what Thomson himself would produce. Unknowing of the tragic fate that lay ahead for his colleague with his death at Canoe Lake, Jackson created a fitting tribute to his close friend.
Waddington's is also offering exceptional paintings by Emily Carr, Group of Seven members Carmichael, Johnston, Lismer, MacDonald, FitzGerald and Holgate, as well as Group contemporaries the Beaver Hall painters of Montreal, and Walter Joseph Phillips.
The sale this season is particularly strong in Canadian Impressionist paintings and boasts exquisite Cullens, among other blue-chip interpreters of the Impressionist school. Consigned by the estate of the daughter of the late William Watson, Cullen's dealer, The Deep Pool, 1926 will attract some of Canada's most capable collectors. Laura Muntz' Portrait Study of Two Children in an Orchard is arguably the finest painting by the "Canadian Mary Cassatt" to come on the market ever.
For post-war collectors, Waddington's has powerful works by Quebec abstract painters including a classic 1966 canvas by Guido Molinari (est. $70,000 – 90,000) which was exhibited at the National Gallery of Canada and the Musée d'art contemporain de Montréal.
Two impressive works by Marcelle Ferron, a rising star in the estimation of collectors of post-war Canadian Art, provides collectors with an opportunity to acquire an exemplary work by a signatory of Le Refus Global and one of only a few women Automatistes. And three diminutive and delightful works by Jean-Philippe Dallaire, trumpeting his playful signature style from the 40s and 50s, will be offered.
Works by members of Painters 11 including Cahén, Hodgson, Nakamura, Ronald and Town will be sold with expectation that the Cahéns could set new records for an oil, and work on paper, for this artist.
While many of the lots continue to be consigned by Canadian-based collectors, works have been entrusted to us by consignors from the United States, the United Kingdom and South Africa and will be sold to collectors worldwide. Waddington's is able to attract buyers and sellers from around the world through absentee bidding.
---