Lot 49
JACQUES GODEFROY DE TONNANCOUR, A.R.C.A.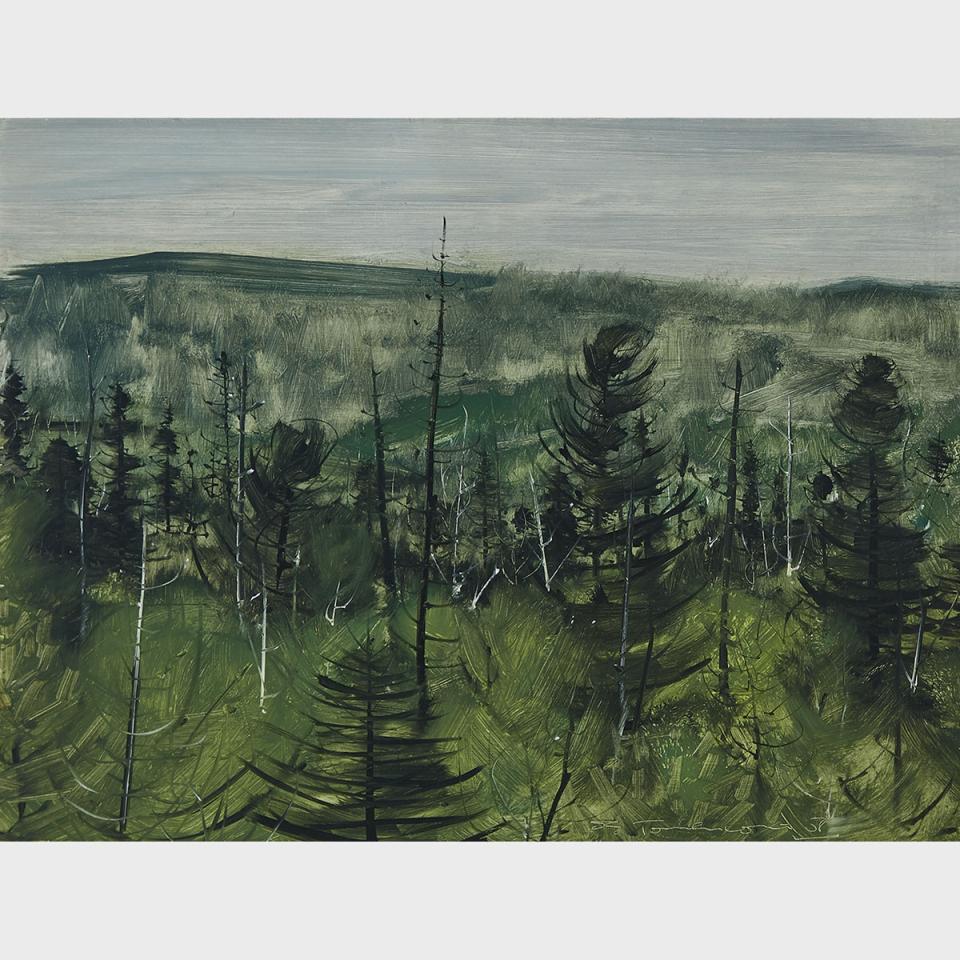 Lot 49 Details
JACQUES GODEFROY DE TONNANCOUR, A.R.C.A.
PAYSAGE
oil on masonite
signed and dated '58
18 ins x 24 ins; 45.7 cms x 61 cms

Estimate $8,000-$12,000
Realised: $7,800
Price Includes Buyer's Premium ?
Additional Images
Provenance:
Private Collection, Toronto
Literature:
Ray Ellenwood, Egregore: A history of the Montreal Automatist Movement, Exile Editions Ltd., Toronto, 1992, page 120.
Note:
Unimpressed with his time studying at the École des Beaux Arts in Montreal, Jacques de Tonnancour (1917-2005) denounced academia and left the institution after two years. He held his first solo exhibition at Montreal's Dominion Gallery, and with a government bursary, left for Rio de Janeiro, Brazil in 1945, a city that was to have a lasting impression on his aesthetic style. Once back in Montreal in 1948, he was hired at the very same school he had previously decried, yet this time a little older, wiser and a teacher rather than a student. It was here that he became better acquainted with the surrealist avant-gardist, Alfred Pellan, who was also working at the École des Beaux Arts, and together they would co-author Prisme d'yeux, a manifesto standing in opposition to Borduas and the Automatistes. The Prisme d'yeux manifesto was a reaction to what Pelland and de Tonnancour perceived as the increasing "sectarianism" and the narrow definition of avant-garde under Borduas and the Automatistes. Instead they sought a painting "free from all contingencies of time and place or from restrictive ideologies, conceived apart from any literary, political, philosophical or other interferences which might adulterate its expression and comprise its purity". A somewhat idealist movement that only lasted the duration of two exhibitions, Prisme d'yeux favoured the fundamental principles of painting, effectively calling for the separation of art and politics. After this period of radicalism, de Tonnancour painted sparingly from 1950-1955, returning to the medium and his old landscape subject matter after an inspirational trip to the Laurentians, northern Ontario and Vancouver. Paysage is a ready example from de Tonnancour's return to painting and an early demonstration of his shift towards further simplification of form.