We're thrilled to introduce the newest member of our team, Goulven Le Morvan.
Goulven comes to us by way of Paris, and joins the Waddington's team as the Director and Senior Specialist, International Art located in Montreal. To get to know him better, we asked Goulven a few questions about his path through the art world, his favourite Canadian artists, the differences between North American and European collectors, and what he's most looking forward to at Waddington's.
Nous sommes ravis de vous présenter le nouveau membre de notre équipe, Goulven Le Morvan. Goulven arrive de Paris et se joint à l'équipe de Waddington's en tant que Spécialiste sénior Éditions et Spécialiste sénior pour les consignations à Montréal. Pour mieux le connaître, nous avons posé à Goulven quelques questions sur son parcours dans le monde de l'art, ses artistes canadiens préférés, les différences entre les collectionneurs nord-américains et européens, et ce qu'il attend le plus de Waddington's. Pour lire l'entrevue en français, cliquez ici.
How did you end up working in the arts? Was it something you always knew you wanted to do?
I chose to study law right after graduation but, as interesting as it was, I always had a keen interest in art. After my master's degree in private law, I pursued a master's degree in Art History at La Sorbonne in Paris. In order to combine those two fields, I turned to the auction world, first in my hometown of Brest, France and then in Paris.
 Tell us about your previous career in Europe. 
My first job was for an auction house in Brest, where I learned a lot from the auctioneer and the experts from various fields including Asian art, Silverware, Folk art, and Jewellery. When I moved to Paris to continue my studies, I began working at Piasa, a larger, more contemporary-focused auction house. I started in the Design Department and was in charge of the collections and monographic auctions, but eventually transitioned into the realm of editions.
Was it a conscious choice to specialise in prints and editions? A mentor, a coincidence?
Coming from a small town, I had a thirst for knowledge – specifically about important artists and how the art world works. When I arrived in Paris I immersed myself within the contemporary art world and instantly found it fascinating. When I started at Piasa, I worked on their first Limited Edition auction. The diversity of the artists featured and the precious medium of paper blew my mind. That first auction was so successful that a department was formed specifically to focus on editions. I began working as a Junior Specialist within the field, and worked my way up to become the head of the department in 2018. This position gave me the opportunity to present engaging collections and large auctions of prints and multiples.
What advice would you give to someone beginning to collect prints and editions? 
Start by collecting artists you like to have around, because you have to live with your collection. I always recommend three key points while collecting: buy what you like, always buy an original edition (signed and numbered), and essentially, do not collect damaged prints or editions because it is quite complicated to restore paper.
Is there an artist who you think is massively underrated in this field?
This is a tough choice! I might point to female artists in general, as they still are massively underrated in the art world, though they have begun to catch up in the past few years. It is incredible to see the rising value of works by Lee Krasner, Louise Bourgeois, Louise Nevelson, Helen Frankenthaler or Tracey Emin, who are as revolutionary as artists like Jeff Koons, Andy Warhol or Pablo Picasso.
I should also mention François-Xavier Lalanne. It is striking to see the discrepancy between the value of his amazing sculptures and his prints, which I think are just brilliant. I always loved the work of the Lalanne couple: their world and their bestiaries are poetry on paper. It is very much, for me, related to incredible contemporary artists like David Shrigley or Peter Doig, presenting their own vision and art.
What do you love most about living in Montreal?
I love the feeling of space, and the proximity to nature and parks. I lived in Paris for seven years: the city itself is quite small and full of people. Now I enjoy being able to go to the park so close to home, and to escape the city and into nature so quickly! On a more practical note, I love being able to go to museums and restaurants without any prior reservations!
Is there an exhibition in Montreal that you have seen recently that you enjoyed? 
The Nicolas Party exhibition "L'heure mauve" at the Musée des Beaux-Arts de Montréal was remarkable. I have been following the artist for a few years now, so to be able to see so many great pieces together with an incredible mise en scène displayed with the artist's own collection was really amazing. The walls were a part of the show too, reinforcing the impact of the colours of the paintings and the pastel technique owned by Party, which was impressive. The portraits and the landscapes were spectacular, as was the size of the works themselves.
Who are your favourite Canadian artists….living and dead?
Jean Paul Lemieux, as I am really into portraits at the moment. I love the composition of his paintings and his view of his models is very genuine – it reminds me of the work of French artist Claire Tabouret. His paintings feel very authentic to me in the simplicity of their colours, composition and light.
My favourite living Canadian artist would be Chloe Wise. She recently opened a show at the Blouin Division Gallery in Montreal. The exhibition was really impressive; an immersion in her mind and her art. Her paintings and art are really fun, delicate, precise – just great. I think the future has great things coming for her.
What do you think are the biggest differences in the art world and/or collecting habits between Europe and North America?
The biggest difference between the two markets is really the trust in artists. North Americans support their artists and believe in them on both the primary and secondary markets. The North American market collects with trust in the future when compared to Europe and specifically France, where people sometimes have a hard time supporting their own artists.
If you could own any piece sold by Waddington's over the years, what would it be?
Without a shadow of a doubt it would be Kent Monkman's Study for the Academy, sold in 2019. I discovered the artist when I arrived in Canada last year and I am still mesmerised by him. I love the double entendre in his art as it deepens his message. His prints are as amazing as his paintings and, by the way, some are still available on his website!
Do you have a favourite artist or artwork? Perhaps something that changed the way you see art or was a major influence for you?
It is hard to pick a favourite, as I love so many. Two of my favourites would definitely be Ed Ruscha, tied with John Baldessari. Seeing their works for the first time intrigued me in a way I had never experienced before. When you look at their work, there is something that comes and gets you. One of my favourite pieces – that I will definitely own someday – is Baldessari's Throwing Three Balls in the Air to Get a Straight Line (Best of Thirty-Six Attempts) from 1973. The palms, the blue sky, the orange balls: everything ties together to make this artwork a masterpiece for me.
Do you collect art yourself? What is a favourite piece from your collection?
Yes I do, and it's wonderfully convenient that collecting prints is both my passion and my job! My favourite piece in my collection would be the first one I bought a few years ago at auction in New York City: Baldessari's  Five Pickles (with Fingerprints) in the Shape of a Hand from 1973. I have a passion for both pickles and Baldessari, so it is the ultimate piece for me! I recently collected a piece by Lindsey Mendick, an amazing British artist that I also love a lot.
Is there something you are looking forward to accomplishing at Waddington's?
I look forward to establishing a good network in Quebec with collectors and partners, and being an asset to Waddington's in the francophone region! I am also very motivated to build a really strong department of prints and multiples as I did in Paris, with the goal of offering a nice selection of prints for the Canadian and International markets.
Version française
Comment en êtes-vous venu à travailler dans le domaine des arts? Avez-vous toujours su ce que vous vouliez faire?
J'ai débuté mes études par un Master en Droit privé mais, aussi intéressant que cela puisse être, j'ai toujours eu un vif intérêt pour l'art. Après mon Master, j'ai poursuivi un Master recherche en histoire de l'art à la Sorbonne à Paris. Afin de combiner ces deux domaines, je me suis naturellement tourné vers le monde des enchères, d'abord dans ma ville natale, puis à Paris.
Parlez-nous de votre carrière antérieure en Europe.
Mon premier emploi était pour une maison de vente aux enchères à Brest, où j'ai beaucoup appris avec le commissaire-priseur et les experts de différents domaines, notamment en art asiatique, argenterie, art populaire et joaillerie. Lorsque j'ai déménagé à Paris pour poursuivre mes études, j'ai commencé à travailler chez Piasa, une maison de vente aux enchères plus importante axée sur l'art contemporain. J'ai commencé au département Design où j'étais en charge des collections et des ventes aux enchères monographiques, puis j'ai finalement évolué vers le domaine des éditions.
Était-ce un choix délibéré de vous spécialiser dans les éditions? Un mentor, une coïncidence?
Originaire d'une petite ville, j'avais une soif de connaissance, notamment sur les artistes importants et sur le fonctionnement du monde de l'art. Quand je suis arrivé à Paris, je me suis immergé dans le monde de l'art contemporain et j'ai tout de suite trouvé cela fascinant. Lorsque j'ai commencé chez Piasa, j'ai travaillé sur leur première vente aux enchères d'éditions limitées. La diversité des artistes présentés et le précieux support qu'est le papier m'ont époustouflé. Cette première vente aux enchères a connu un tel succès qu'un département a été créé spécifiquement pour se concentrer sur les Éditions. J'ai alors commencé à travailler en tant que spécialiste junior dans ce domaine, et j'ai gravi les échelons pour devenir directeur du département en 2018. Ce poste m'a donné l'occasion de présenter des collections et d'importantes ventes aux enchères d'estampes et de multiples.
Quels conseils donneriez-vous à quelqu'un qui commence à collectionner des estampes et des multiples?
Commencez par collectionner des artistes que vous aimez avoir autour de vous, car vous devez vivre avec votre collection. Je recommande toujours trois points essentiels : achetez ce que vous aimez, achetez toujours une édition originale (signée et numérotée), et surtout, ne collectionnez pas d'estampes endommagées puisqu'il est assez compliqué de restaurer le papier.
Y a-t-il un artiste qui, selon vous, est largement sous-estimé dans ce domaine?
C'est un choix difficile ! Je dirais les artistes femmes en général, car elles sont encore trop sous-estimées dans le monde de l'art, même si elles connaissent une reconnaissance accrue ces dernières années. Il est incroyable de voir l'augmentation continue de la valeur des œuvres de Lee Krasner, Louise Bourgeois, Louise Nevelson, Helen Frankenthaler ou Tracey Emin, qui sont tout aussi révolutionnaires que des artistes comme Jeff Koons, Andy Warhol ou Pablo Picasso.
Je dois également mentionner François-Xavier Lalanne. Il est frappant de voir le décalage entre la valeur de ses sculptures et de ses gravures, que je trouve tout simplement formidables. J'ai toujours aimé le travail du couple Lalanne : leur monde et leur bestiaire sont de la poésie sur papier. Cet esprit de création est très proche, pour moi, d'incroyables artistes contemporains comme David Shrigley ou Peter Doig, qui présentent leur propre vision et leur propre art.
Qu'est-ce qui vous plaît le plus dans la vie à Montréal?
J'aime la sensation d'espace, la proximité de la nature et des parcs. J'ai vécu à Paris pendant sept ans : la ville elle-même est assez petite et très densément peuplée. Maintenant, j'apprécie de pouvoir aller au parc si près de chez moi, et de pouvoir m'échapper de la ville et me retrouver dans la nature si rapidement ! D'un point de vue plus pratique, j'aime pouvoir aller au musée et au restaurant sans réservation préalable !
Y a-t-il une exposition à Montréal que vous avez vue récemment et qui vous a plu?
L'exposition "L'heure mauve" de Nicolas Party au Musée des Beaux-Arts de Montréal était remarquable. Je suis l'artiste depuis quelques années maintenant, alors c'était vraiment extraordinaire de voir autant de grandes pièces et une mise en scène incroyable avec la collection personnelle de l'artiste. Les murs faisaient également partie de l'exposition, renforçant l'impact des couleurs des tableaux et la maîtrise technique du pastel que possède Party qui était toujours si impressionnante. Les portraits, les paysages, la taille des œuvres étaient vraiment spectaculaires.
Quels sont vos artistes canadiens préférés… vivants et morts ?
Jean Paul Lemieux, – j'aime beaucoup les portraits en ce moment. J'aime la composition de ses tableaux et le regard qu'il porte sur ses modèles est très authentique – cela me rappelle le travail de l'artiste française Claire Tabouret. Ses tableaux me semblent très purs et émouvant tant dans la simplicité des couleurs, que dans la composition et la lumière.
L'artiste canadienne vivante que j'affectionne beaucoup actuellement est Chloe Wise. Son exposition à la Galerie Blouin Division à Montréal était très intéressante, une immersion dans son esprit et son art. Ses peintures et son art sont vraiment amusants, délicats, précis – tout simplement géniaux. Je pense que l'avenir lui réserve de grandes choses.
Selon vous, quelles sont les plus grandes différences dans le monde de l'art et/ou les habitudes de collection entre l'Europe et l'Amérique du Nord ?
La plus grande différence entre les deux marchés est vraiment la confiance dans les artistes. Les Nord-Américains soutiennent leurs artistes et croient en eux, tant sur le marché primaire que sur le marché secondaire. Le marché nord-américain collectionne en ayant confiance en l'avenir, contrairement à l'Europe et plus particulièrement à la France, où les gens ont parfois du mal à soutenir leurs propres artistes.
Si vous pouviez posséder une pièce vendue par Waddington's au fil des ans, quelle serait-elle ?
Sans l'ombre d'un doute, ce serait l'Étude pour l'Académie de Kent Monkman, vendue en 2019. J'ai découvert l'artiste en arrivant au Canada l'année dernière et je suis toujours hypnotisé par lui. J'aime vraiment le second degré qu'il exprime dans son art et qui approfondit le message qu'il transmet au spectateur. Ses gravures sont aussi étonnantes que ses peintures et, d'ailleurs, certaines sont encore disponibles sur son site web !
Avez-vous un artiste ou une œuvre d'art préféré(e) ? Peut-être une œuvre qui a changé votre façon de voir l'art ou qui a eu une influence majeure pour vous ?
C'est difficile de choisir un artiste préféré, car j'en aime tellement. Deux de mes artistes préférés sont sans aucun doute Ed Ruscha, à égalité avec John Baldessari. Voir leurs œuvres pour la première fois a vraiment été un choc artistique. Quand vous regardez leurs œuvres, il y a quelque chose qui vous entraîne. L'une de mes œuvres préférées, que je posséderai certainement un jour, est Throwing Three Balls in the Air to Get a Straight Line (Best of Thirty-Six Attempts) de Baldessari de 1973. Les palmiers, le ciel bleu, les balles orange : tout s'accorde pour faire de cette œuvre un chef-d'œuvre pour moi.
Collectionnez-vous vous-même des œuvres d'art ? Quelle est votre pièce préférée dans votre collection ?
Oui, et c'est très pratique que la collection d'estampes soit à la fois ma passion et mon travail ! L'œuvre que je préfère dans ma collection est la première que j'ai achetée aux enchères il y a quelques années à New York : Five Pickles (with Fingerprints) in the Shape of a Hand de Baldessari, datant de 1973. J'ai une passion pour les cornichons et pour Baldessari, c'est donc la pièce ultime pour moi ! J'ai récemment acquis une œuvre de Lindsey Mendick, une artiste britannique extraordinaire que j'aime aussi beaucoup.
Y a-t-il quelque chose que vous avez hâte d'accomplir chez Waddington's ?
J'ai hâte d'établir un bon réseau au Québec avec des collectionneurs et des partenaires, et d'être un atout pour Waddington's dans la région francophone ! Je suis également très motivé par l'idée de construire un département d'estampes et de multiples vraiment solide, comme je l'ai fait à Paris, dans le but d'offrir une belle sélection d'estampes pour les marchés canadien et international.
Meet the Specialist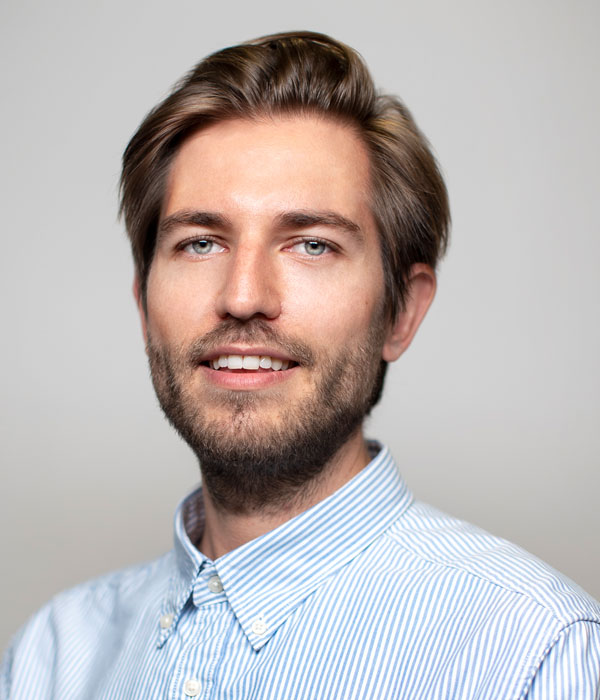 ---