Lions, Leopards and George III: Learning About Silver Hallmarks
Provenance: perhaps the most important word in the auction business (well, except for the word "sold!").
Provenance can become tricky when it comes to unsigned paintings, uncertain origin stories and undocumented work, but in the case of silver, you may have noted that we ascribe maker, date and origin within a very tight range of specificity—more so than with many other antiques. This high degree of certainty comes from the item's hallmarks, the small signs that are stamped into precious metal items intended to be sold commercially.
The word "hallmark" comes from the custom of sending these items to the Goldsmith's Hall in London to be marked. A meticulous hallmarking process was often crucial, as many nations did not allow the sale of unmarked silver. The ritualized marking process allowed for the state to tax the items as well as creating a level of confidence for consumers looking to buy.
While the amount of knowledge in this field could fill an ocean, we wanted to wade in to the shallow end and talk about a few of the signs and symbols with Bill Kime, our Senior Specialist in the Decorative Arts department and Hayley Dawson, our Consignment Coordinator. We selected three lots of different origin from our Decorative Arts & Design auction, online from March 21 – 26.
Lot 51: George III Silver Marrow Scoop, Solomon Hougham, London, 1802
These long spoons attract a lot of attention at our previews, and have a devoted set of collectors. Before proper table manners were introduced, it was common for diners to suck the marrow out of cooked bones. This was a noisy, messy proposition that became viewed as being in poor taste. Around the 1680s, marrow scoops were introduced to solve this problem, allowing for a suitably refined attitude to be maintained at the table while this delicacy was consumed.
*  The "SH" here indicates the maker, Solomon Hougham. It appears to be upside down, reading "HS" when compared with the other four marks. However, it is important to note that the maker's mark would have actually been the first symbol impressed into the item. Only afterwards when it was being taxed and assessed would the other marks have been added. The person in charge of punching in the state marks would have been less interested in ensuring that the maker's stamp was right side up or not—their job was simply to get those marks in place—without much care for artistry.
*  The lion passant symbol indicates that it is made of sterling silver. "Passant" means that the lion's right forepaw is raised while his other three paws are on the ground. In the reign of Edward I, it was decreed that the silver content for coins and plate should be standardized. Sterling, which is an alloy containing 92.5% silver, was decreed to be the rule.
*  The leopard's head symbol tells us that the bowl was assayed in London. "Assaying" means that the silver's content and quality was assessed by an overseeing body. The leopard's head was pictured with a crown from 1478-1822; afterwards, the leopard was still used to signify the London assaying office, but was pictured uncrowned.
*  "G" indicates the date when the piece was assayed – 1802. The letter changed more or less annually until the alphabet was cycled through. The cycle would then begin again with a different surrounding shape or font. This system wasn't always strictly adhered to, so there are anomalies in the history.
*  The monarch's head here signifies that duties to the state have been paid. In this case, we see the profile of George III.
Lot 96: Danish Silver Serving Spoon, Carl M. Cohr, Fredericia, 1925
Danish hallmarking was not compulsory, but rather voluntary. Adherence varies as larger firms such as Georg Jensen, Hans Hansen and Carl Cohr assumed that their companies inspired enough confidence that the state control marks were not deemed absolutely necessary. Smaller silversmiths tended to use the official state hallmarks, though the practice slowly petered out until the marks were ultimately retired in 1977.
*  The three-tower mark here indicates the guaranteed purity of Danish silver. The first time this symbol was used was in 1608, when it was used as Copenhagen's official city mark. Other cities like Aalborg, Odense and Aarhus had their own separate marks. In 1893, the three-tower symbol was adopted as the national mark of Denmark. The design was modified yearly. The digits below indicate the year, 1925.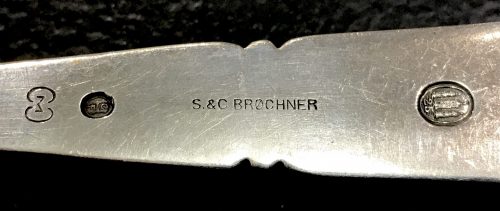 *  The symbol that looks like the "M" inside parentheses is actually "CMC", standing for Carl M. Cohr. The Cohr workshop was founded in 1860 in Fredericia by Carl's father Ditlef. After Carl took over, he introduced mechanical forms of production, as well as making silver plated items. By Carl's death in 1925, his company was the largest silverware factory of its time.
*  "S & C Brøchner" indicates the retailer. The "CF" is the mark of the assayer, who in this case was C. F. Heise. What is interesting here is the order and force in which the marks were struck: The maker's mark, which was stamped first, is sympathetic to the object and is relatively discrete. Then comes the assaymaster's, which was done deeply and with tremendous authority. Last of all is the retailer, who is interested in getting their name on there too, but is mindful not to upstage the maker. As a result, Brøchner's mark is very lightly struck. The same sensibilities are often at play on 250-year old Georgian silver: there will be perhaps four very legible marks that were struck at the assay office, but the maker's mark has been almost completely worn away to the point of being unidentifiable.
Lot 97: Russian Silver Bottle Coaster, Karl Fabergé, workmaster Alexander Väkevä, St. Petersburg, c.1899-1908
Yes, that Fabergé! Karl Gustavovich Fabergé was trained in St. Petersburg, Frankfurt and Dresden, inheriting his father Gustav's business in 1870. Fabergé expanded the company's offerings to include furniture, functional objects and of course, those famous eggs. While this bottle coaster doesn't immediately evoke the ornateness that Fabergé is known for today, it exhibits the same craftsmanship and beauty that solidified his reputation.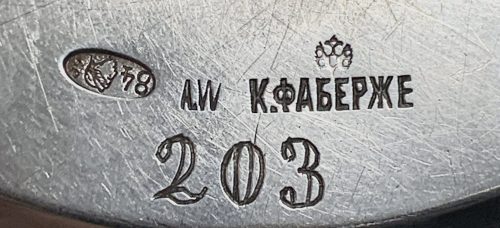 *  The woman pictured here is wearing a peasant's headdress known as a kokoshnik, which is why this stamp is known as a Kokoshnik Mark. The Kokoshnik was introduced in 1896, but only entered widespread use in 1899. The "84" seen here refers not to a date but the purity of the silver. Russian silver was measured in a now-obsolete weight measure known as a zolotnik—this coaster therefore has a silver content of 84 zolotniki. At the back of the woman's head are the assayer's Cyrillic initials, "AR" indicating at which office and who did the certification of the silver content of this piece; in this case it indicates that it was done in St. Petersburg by either A. Riktera or Alexandra Romanova.
*  "K.Фаберже́" is Karl Fabergé's name written in Cyrillic. Fabergé would stamp items that were headed for his London shop in Roman letters, so we can tell that this item was intended for domestic sale. Above the signature is a tiny double-headed eagle, symbolizing Imperial Russia. This was the established Imperial Warrant mark, meaning that only Imperial-sanctioned makers could use that insignia.
*  Stefan Väkevä founded a workshop in 1865, and soon began to supply silver objects to Karl Fabergé's father. The entire output of Väkevä's shop went to the Fabergé firm, a collaboration that would last until 1917. Stefan's two sons Alexander and Konstantin followed in their father's footsteps, becoming master silversmiths in their own right, and working exclusively for Fabergé. The "AW" here indicates that it was Alexander who oversaw the production of this piece.
*  The "203" here has nothing to do with maker, assayer or silver content. Rather, it is an inventory mark placed there by the owner.
Interested in learning more about this auction?
Don't hesitate to contact one of our team members, we're always happy to answer any questions you may have.
In addition to this auction, we invite you to browse the galleries for our Fine Furniture, Sculpture & Decorative Accessories from Important Collections Auction, which includes pieces from the Beaverbrook Art Gallery; our Moorcroft Pottery Auction; and Fine Rugs & Carpets. All four auctions are online from March 21 – 26, 2020. View the Auctions Here
First time bidder? Register here.
Meet the Specialists
---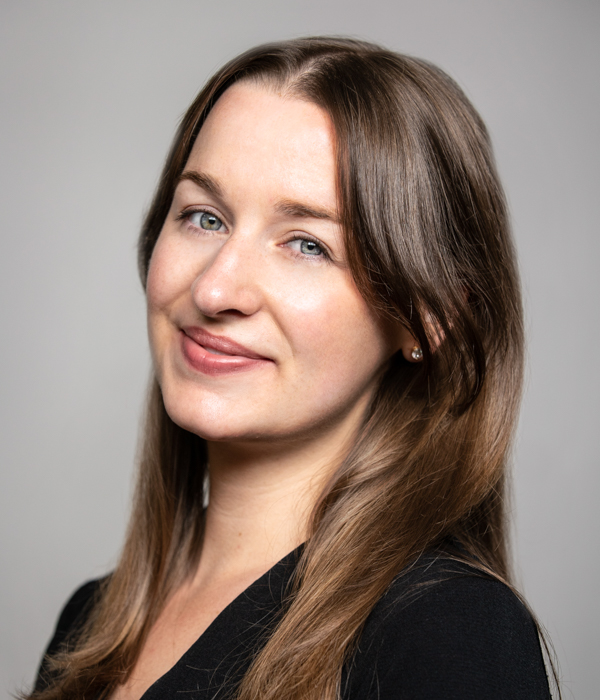 ---