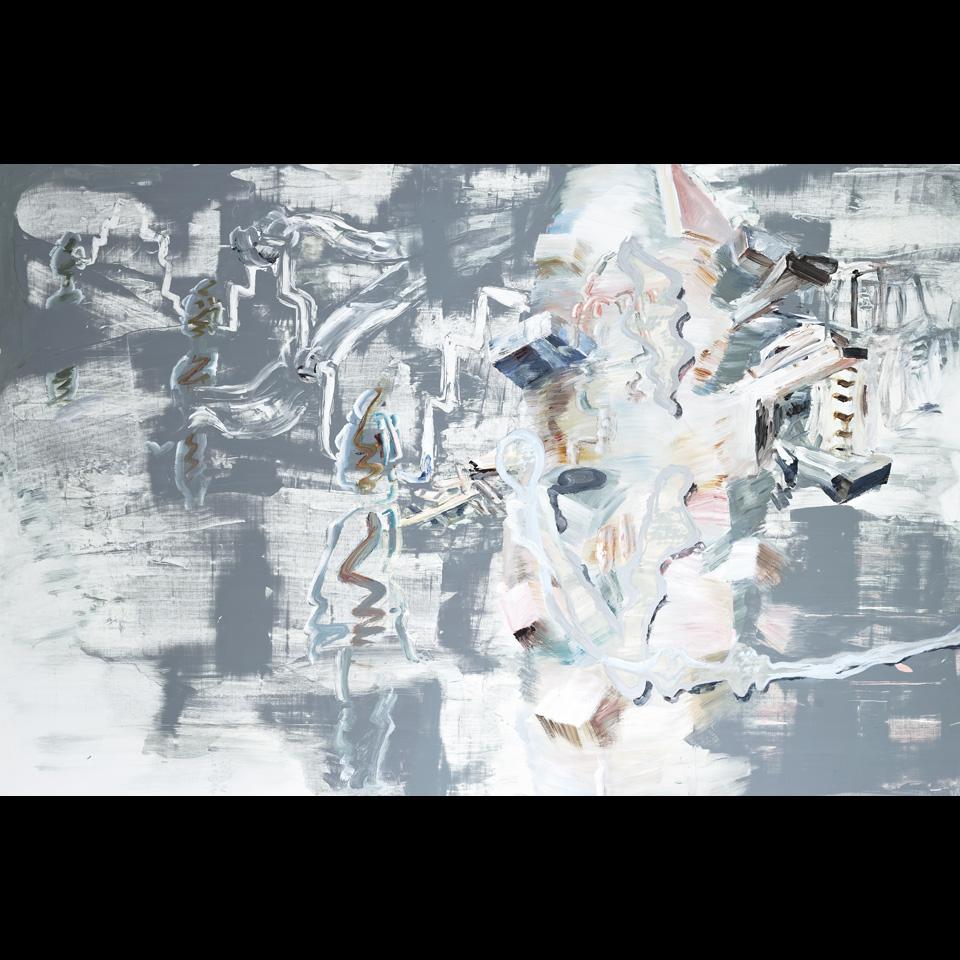 STRUCTURES OF MEMORY #2

signed, titled and dated 1986 on the reverse
52" x 78" — 130 x 195 cm.

---
March 08, 2012
Estimate $4,000-$6,000
Realised: $15,600
Puss in Boots, fairy-tale lore, illustration history, love of books: all of these abound in Carol Wainio's dense and creamy acrylic paintings, such as She Met an Old Woman (2012) and Camouflage 2 (Symmetry) (2007). Her 2010 exhibition, The Book, offered a 10-year survey in which Wainio's signature imagery offers an oblique critique of the greed of consumer culture.
Wainio participated in Painters 15, curated by artist David Urban, which showcased contemporary Canadian art at the Shanghai Art Museum in 2002 and Toronto's Museum of Contemporary Canadian Art in 2003.
Internationally, her work has been showcased at the Venice Biennale, the Galleria Comunale d'Arte Moderna in Bologna, and the Stedelijk Museum in the Netherlands. Wainio has shown across the US and in Canada, including at the National Gallery of Canada, the Art Gallery of Ontario, and the Musée d'art contemporain de Montréal. Her work is represented in the permanent collections of these three major Canadian institutions and many more of the public and private variety. In 2004, Wainio was elected to the Royal Canadian Academy of Arts. She lives and works in Ottawa.
Provenance:
Corporate Collection, Ontario.
DROPPED FROM THE CALENDAR / EXPERIENCE AND SELF-CONSCIOUSNESS

signed, titled and dated /84 on the reverse
60 ins x 81 ins; 152.4 cms x 205.7 cms

---
May 28, 2018
Estimate $10,000-$15,000
Realised: $12,000
WAYS OF KNOWING

signed, titled and dated 1988 on the reverse
24.5 ins x 112 ins; 62.2 cms x 284.5 cms

---
April 13, 2015
Estimate $8,000-$10,000
Realised: $7,800
Concrete Contemporary Art
Concrete Contemporary Auctions and Projects was created in 2012 to develop the secondary market for Canadian contemporary art. Since inception we have established creditable auction prices for dozens of important artists. Leveraging our extensive networks of collectors, gallerists, curators and artists, Concrete Contemporary's auctions and events merge the traditional worlds of commercial auctions and galleries. The primary focus is on work produced since 1980 by mid to late career artists with exhibition history in the private and public sphere.
Meet the Specialist