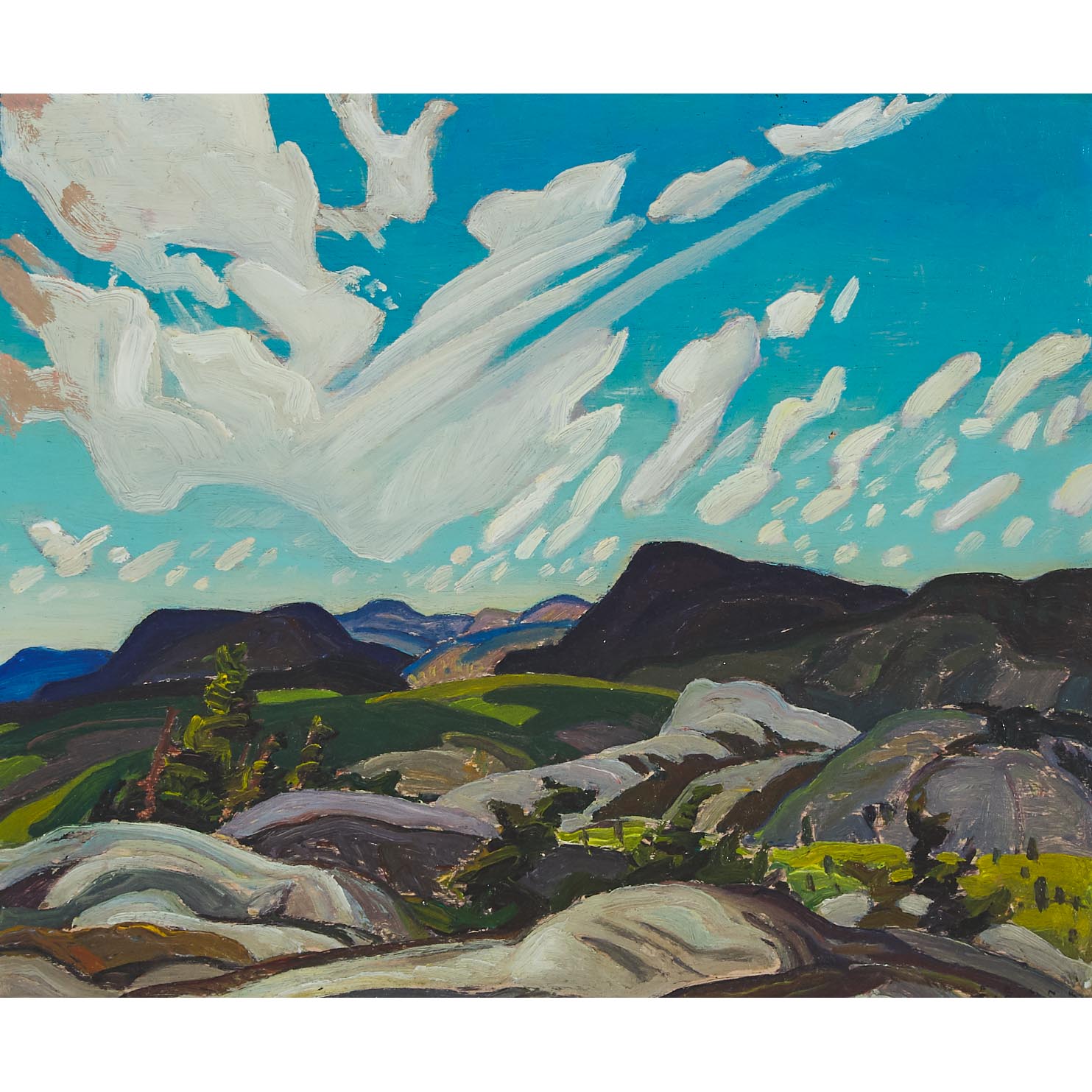 JULY, 1939

signed and dated; signed, titled and inscribed by artist on the reverse; titled and dated to gallery labels on the reverse
10 ins x 12 ins; 25.4 cms x 30.5 cms

---
June 09, 2022
Estimate $70,000-$90,000
Realised: $156,000
July is instantly recognizable as a view of Franklin Carmichael's beloved La Cloche region, about 60 kilometres southwest of Sudbury–as synonymous with each other as Tom Thomson and Algonquin Park. In 1924, when the Group of Seven was growing in stature, fellow Group members Lawren S. Harris, A.Y. Jackson and Arthur Lismer travelled to Algoma; Harris and Jackson went to Jasper, Alberta; Frank Johnston and J.E.H. MacDonald travelled separately to the Canadian Rockies; and that fall Carmichael and Harris went to the north shore of Lake Superior and La Cloche. Carmichael found in La Cloche a place that would provide stimulation and subjects for more than 20 years.
July is particularly thrilling among his La Cloche subjects in the way the sky, the slight diagonal of the horizon, and chiaroscuro of shadowed hilltops and aerial perspective create a lively tension. The McMichael Canadian Art Collection's 1936 Hilltops has near-vertical cirrocumulus clouds over La Cloche. This motif is further heightened in July and is as compelling as, and more dynamic than, the abstractions Harris was developing in Santa Fe, New Mexico, at the time. In his own foray into abstraction, Carmichael's Gambit #1 (1945), also in the McMichael's collection, employs the same earth tones he used in July, and like Harris's early abstractions, Carmichael's composition is easily read in relation to the landscape.
Carmichael's May 1941 dedication on the verso adds another facet to the sketch's history. Yvon Doucet studied commercial art and was active in student life at the Ontario College of Art (now, OCAD University) in Toronto at the end of the 1930s in the department Carmichael led. In 1943 Doucet became a member of Toronto's Arts and Letters Club where Carmichael had been a member since 1917. In 1970, when the Arts and Letters Club had its fiftieth anniversary exhibition of the Group's formation, Doucet lent July to its last documented public exhibition.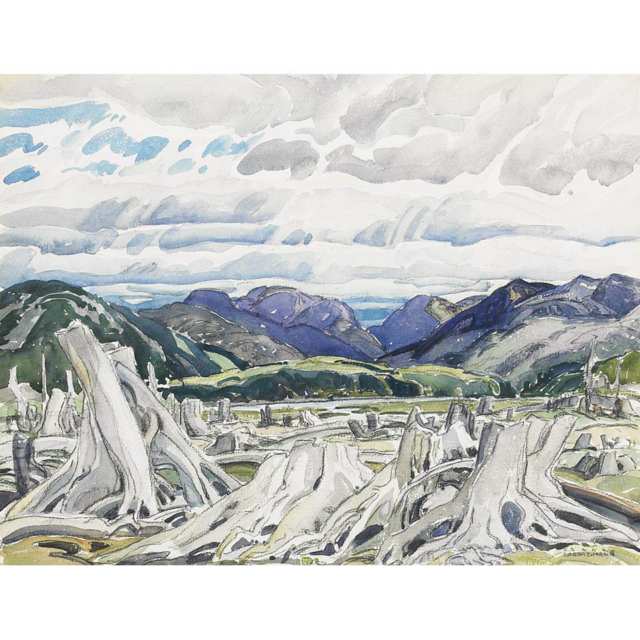 HOWRY CREEK, LA CLOCHE

signed and dated 1938
10.0" x 13.0" (25.0 cm x 32.5 cm)

---
May 29, 2007
Estimate $40,000-$50,000
Realised: $115,000
Canadian Fine Art
Waddington's has been a major force in the Canadian art market for over five decades, beginning with our first auction of Canadian Fine Art held at the Queen Elizabeth Building at the CNE in 1967. Since then we have offered countless important and major Canadian works of art, set record prices and are regarded as the source for buying and selling exceptional Canadian Art.
Meet the Specialist
---