NORMAN BAY, LAKE OF THE WOODS, 1916

signed and dated
13 ins x 15.25 ins; 33 cms x 38.7 cms

---
June 09, 2022
Estimate $10,000-$15,000
Realised: $108,000
Walter J. Phillips is one of Canada's most distinguished graphic artists and is considered the master of colour woodblock printing in Canada. Lake of the Woods, with its villages and varied landscapes, served as muse across all of Phillips' chosen mediums and inspired his greatest production. He created 11 etchings, 40 woodblocks, five engravings, and innumerable watercolours inspired by Lake of the Woods. Norman Bay, Lake of the Woods and Winnipeg River, Lake of the Woods demonstrate Phillips' mastery of the English watercolour style. It was a common practice for Phillips to develop a woodcut design from a watercolour, as is the case with both of these paintings.
Norman Bay, Lake of the Woods: Phillips stayed in Norman Bay his first few years visiting "the lake." This piece captures Phillips' love of nature and expression of beauty. From this painting Phillips reused the foreground with its wild roses and grass growing through the granite for the woodcut Norman Bay, Lake of the Woods (1920). Norman Bay's defining shoreline reappears in the woodcut print Norman Bay No. 2 (1923) for which he received international recognition in 1924, winning the Storrow Prize at the International Exhibition of Prints in Los Angeles. Phillips' piece stood apart for his innovative use of local pine wood in addition to the traditional use of cherry. The natural lines of the pine grain mimicked perfectly the wave action along the lakeshore and earned Phillips worldwide praise.
Winnipeg River, Lake of the Woods: A walk down the railroad tracks from Norman Bay took Phillips to the mouth of the Winnipeg River. He later turned this watercolour composition into the etching The Backwater (1917). Phillips' introduction to printing was through the etching medium (1915). His works were produced in very limited quantities and he ultimately abandoned the etching process in 1918, resulting in the rarity of these works. Phillips was influenced by a Japanese aesthetic which favoured a dominant element of flora in the foreground of many of his woodcut compositions. The arching pine branch of this watercolour reappears in Phillips' woodcut Morning (1924).
Sophie Lavoie is a curator and art consultant, with a specialty in the works of Walter J. Phillips. She is the curator of The Muse: Douglas Family Art Centre in Kenora, Ontario.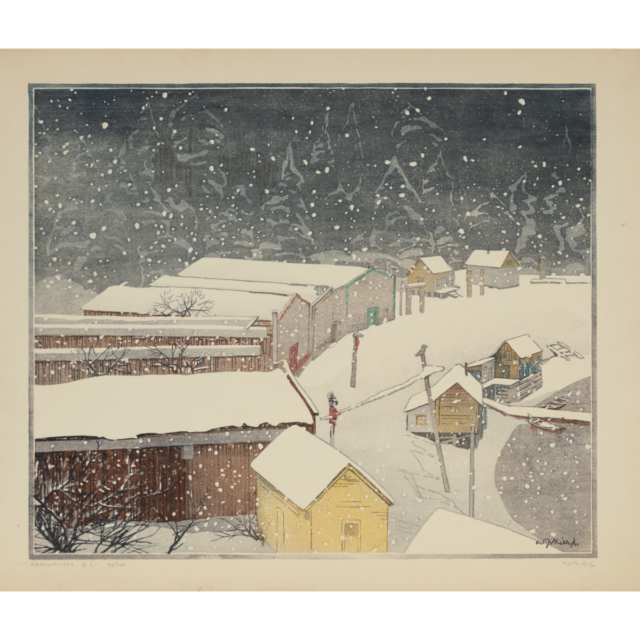 KARLUKWEES B.C., 1929

signed to the plate and signed, titled, and numbered 99/100 in pencil to lower margin
image 10.25 ins x 12.25 ins; 26 cms x 31.1 cms

---
November 18, 2019
Estimate $35,000-$50,000
Realised: $66,000
WINNIPEG RIVER, LAKE OF THE WOODS, 1916

signed and dated
16 ins x 20 ins; 40.6 cms x 50.8 cms

---
June 09, 2022
Estimate $12,000-$16,000
Realised: $55,200
SUMMER IDYLL

signed and dated 1921
12 ins x 7 1/4 ins; 30 cms x 18.1 cms

---
June 01, 2010
Estimate $8,000-$10,000
Realised: $40,120
Canadian Fine Art
Waddington's has been a major force in the Canadian art market for over five decades, beginning with our first auction of Canadian Fine Art held at the Queen Elizabeth Building at the CNE in 1967. Since then we have offered countless important and major Canadian works of art, set record prices and are regarded as the source for buying and selling exceptional Canadian Art.
Meet the Specialist
---