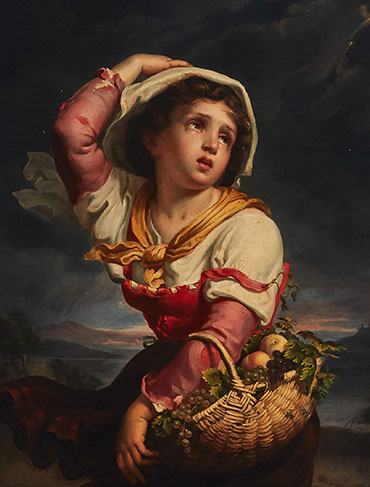 a rare opportunity to collect unique works from the past 400 years of European art
Waddington's is pleased to present an excellent opportunity to collect timeless works of art from the European tradition. Representing major movements from the 15th through the 19th century, our Old Master auction features a collection of works highlighting Northern and Western Masters, the schools they came from, and the followers they inspired. Whether you're looking to enhance an established collection or to find a noteworthy first acquisition, this auction provides a rare opportunity to collect unique works from the past 400 years of European art history.
notable portraits: secular and religious
The online auction features many notable portraits, both secular and religious. Leading the auction is a copy of Sir Joshua Reynolds' portrait of Lady Anne Dawson as the goddess Diana (Lot 1), showcasing a subtle and refined treatment of an idealized figure. Two works by Giuseppe Mazzolini, Lot 4, The Approaching Storm, and Lot 6 (attributed), Aries (Also known as Winter), are finely finished and dramatically heightened allegorical portraits. There are several accomplished religious works on offer, such as Lot 15, a stirring depiction of the martyrdom of St. Sebastian, attributed to Guido Reni. As well as being skillfully realized images, these works inspire contemplation and reflection.
historical and genre painting traditions
For more climactic scenes, we can turn to historical and genre painting traditions. In Lot 51, Charge from the Fortress of Szigetvár after Johann-Peter Krafft, one can hear the clash of sabres and the thunder of charging horses. Lot 37, The Toilette of Venus, a work in the manner of Titian, was previously owned by Canadian sculptor Yosef Drenters (1930-1983), who purchased the painting in New York. This ancient canvas is ideal for a student of restoration to bring it back to its original glory.
Old Masters can occasionally achieve massive scale. Examples featured here include a vivid and monumental Baroque work After Rubens (Lot 5), and a fantastic 19th Century trompe l'oeil tapestry Attributed to Gygory Vastagh the Elder, depicting the banquet after the hunt (Lot 26). For those with less wall space to play with, there are a number of smaller landscapes done in the Manner of John Constable, as well as a selection of interior scenes and cityscapes from the Dutch and Flemish traditions, some on old cradled panels.
FINE DRAWINGS
The auction concludes with a selection of fine drawings, representing studio studies from the Italian, Dutch, and French traditions. These include a notable piece by Nicolaes Pieterszoon Berchem (1620-1683), Lot 88, depicting an urgently rendered study of a pair of rustic figures – a man sitting, playing a flute, facing a woman spinning thread – accompanied by a small dog that is boldly rendered in graphite on heavy laid paper; and Lot 82, The Birth of the Virgin, from the Collection of Dr. and Mrs. J. Robert Nicholson of London, Ontario – possibly produced by Jan Swart van Groningen as a model for a Durer woodcut – is among the earliest examples executed in the 15th/16th Century on vellum.
Celebrating our Own Susan Robertson
This June's Old Masters auction marks an important milestone for Waddington's as we celebrate the 20th anniversary of our Senior Specialist Susan Robertson. Susan is immensely grateful to the devoted global clientele that has helped make the past two decades so enjoyable. "I cannot tell you how appreciative I am that all of you have contributed to the immense personal satisfaction that I continue to feel each and every day," Robertson says. "It is my goal and great pleasure to bring to auction the finest International paintings, prints, drawings, and sculpture from collections across Canada and overseas."
It is only appropriate then that Susan is able to share some background of one of the highlights from our Old Masters sale. Lot 62, The Deaf Mutes, was one of the first paintings that Susan was struck by early in her career. In the mid to late 1980s, she was browsing an illustrated reference book, where she discovered a large illustration of this piece. Robertson was immediately captivated by the technical qualities and heightened expression of the work. It remained a painting she never forgot, and could never locate again – this was before the days of the internet – until it was consigned to Waddington's for auction. Three figures form a playful group around a table. Two are playing with a black bonnet, while the third turns to face the viewer, throwing his thumb to his nose in childish derision. The artist's name and title of the work remain in question as the old labels on the verso of the piece are indistinct. For Susan, this has been a great opportunity to reconnect with a formative image, and an excellent opportunity to showcase an exceptional work.
We are most grateful for Susan Robertson's expertise and contribution to the success of the International Art department and for her unmatched ability to view and reinterpret Old Masters in a new and exciting light.
---