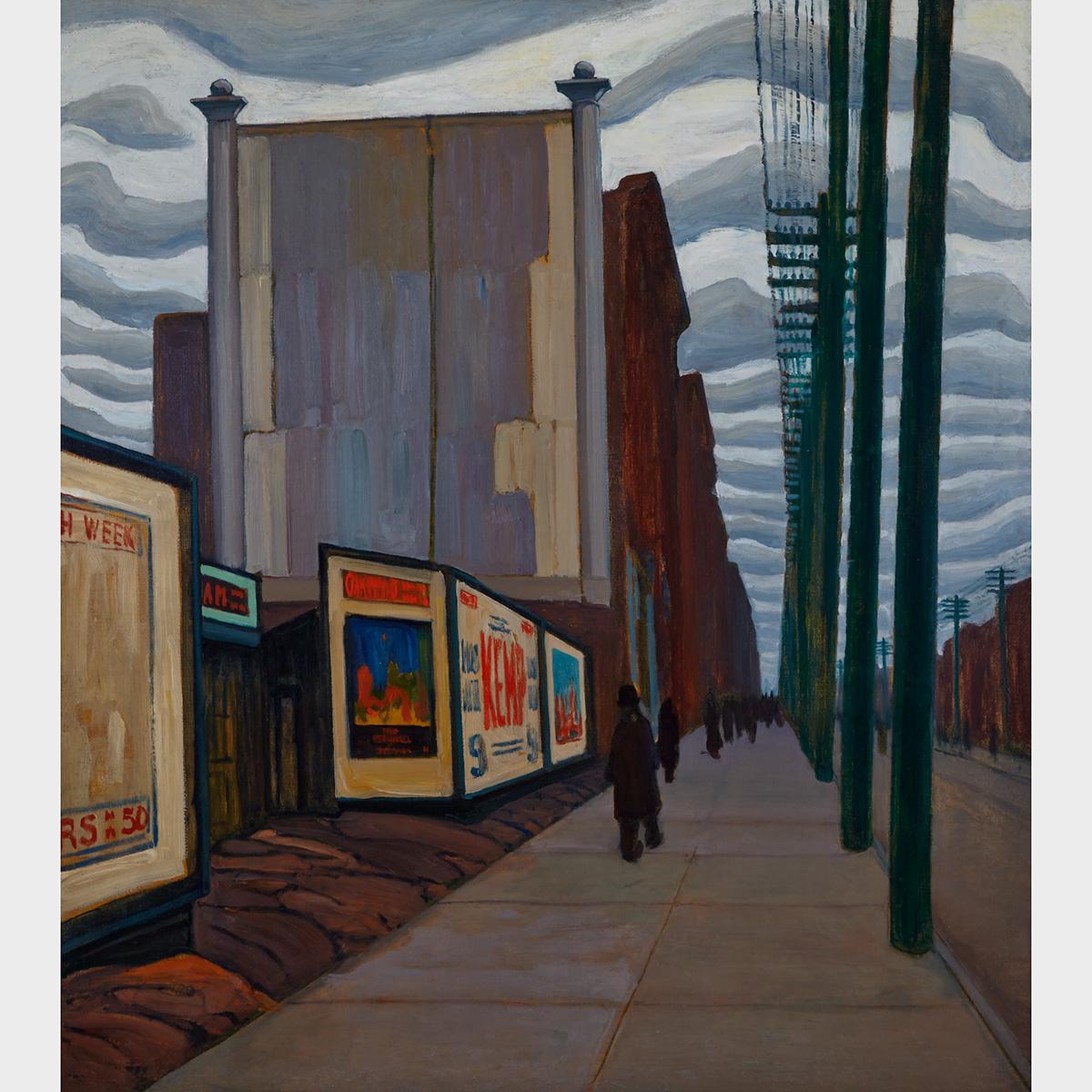 58
LAWREN STEWART HARRIS
STREET SCENE (LSH 135)
oil on canvas
with the LSH Holdings stamp (135) on the reverse
44.75 ins x 40 ins; 113.7 cms x 101.6 cms

Estimate $400,000-$600,000
Realised: $1,150,500
Price Includes Buyer's Premium ?
About artist/note:
Art critic and writer Paul Duval has given many years of consideration to the work of the Group of Seven and Harris in particular. In his recent monograph on Harris, Duval writes of this lot:

"Harris had a special affection for his major canvas, Street Scene. He felt that while the majority of his city paintings were portraits of specific dwellings, Street Scene encapsulated a total mood of the Toronto metropolis during the early nineteen twenties. In it, he captured the grey, overcast feeling of a metropolitan morning, stark and treeless. One of Harris's great achievements was matching a theme to a style, whether in town or in the isolation of Lake Superior (see Lot 46)..."

"Unlike other Harris urban canvases, Street Scene stresses a marked verticality in its design, unlike the more passive horizontality found in most of his other street paintings. The penetration of the picture plane by the composition's deep perspective is balanced by an almost flat passage of the side of a building and the grey ribbons of clouds which weave the entire design together. Stylistically, these clouds are virtually identical to those featured in some Lake Superior canvases of 1922, which makes Street Scene an important transition picture. Street Scene is an emotionally charged and very complex creation, bringing Harris's urban series of paintings to a dramatic conclusion. It is a landmark in his career."

Literature:
Paul Duval, Lawren Harris: Where the Universe Sings, Cerebrus Publishing, Canada, 2011, page 100 and page 101, reproduced in colour.