DRIPPING DREAM #2

signed, titled and dated 2013 on the reverse; signed, titled and dated on the overflap
60 ins x 72 ins; 152.4 cms x 182.9 cms

---
September 23, 2014
Estimate $15,000-$20,000
Realised: $18,000
A painter of extremes, Kim Dorland's artwork is an instantly recognizable fusion of intense colour, copious amounts of paint and psychological narratives. Drawing his inspiration from the likes of Tom Thomson and the Group of Seven, he takes the rich tradition of Canadian landscape painting and infuses it with contemporary imagery such as spectral figures that seem alienated in natural settings and colour combinations that transfix the viewer's gaze.
In Dripping Dream #2, (2013), Dorland depicts himself sitting deep in the woods making the first brushstroke on an otherwise blank canvas of neon pink. "This painting came from a photo of me painting outdoors at the Emma Lake workshop in 2009…I wanted to make a painting that used this experience but twisted it to give it a sense of claustrophobia and a hallucinatory feel."
Dorland studied at the Emily Carr Institute of Art and Design as well as York University where he received his Master of Fine Arts in 2003. His works are exhibited globally and are included in the collections of the Montreal Museum of Fine Arts; the Musee d'art Contemporain de Montreal; the Glenbow Museum (Calgary); and the Museum of Contemporary Art (San Diego).
Provenance:
Private Collection, New York
SWIMMING IN THE LAKE, 2007

signed, titled and dated on the reverse
54 ins x 84 ins; 111.8 cms x 193 cms

---
November 23, 2015
Estimate $25,000-$30,000
Realised: $25,960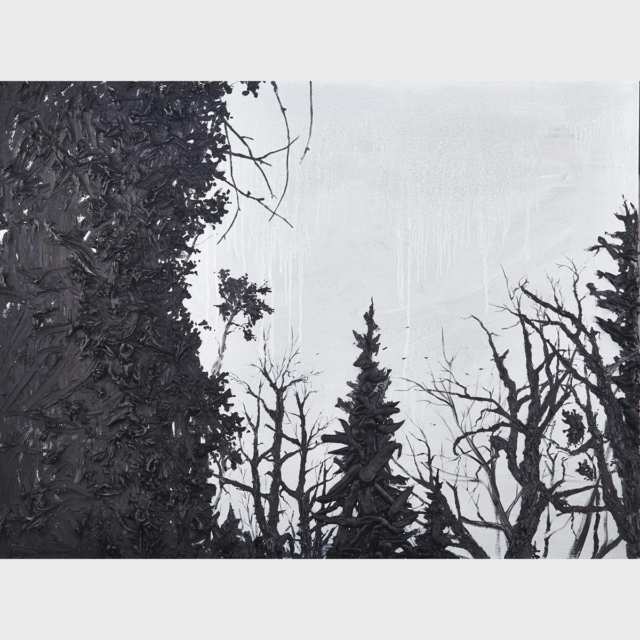 LOST

signed, titled, and dated 2011 on the reverse
36 ins x 48 ins; 91.4 cms x 121.9 cms

---
April 13, 2015
Estimate $8,000-$12,000
Realised: $12,000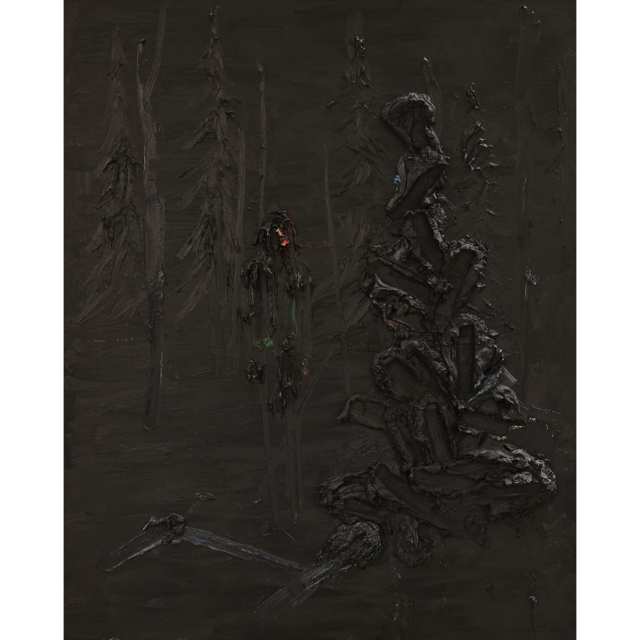 THERE AINT NO CURE FOR LOVE #3

signed, titled and dated 2009 on the reverse
60 ins x 48 ins; 152.4 cms x 121.9 cms

---
April 11, 2016
Estimate $12,000-$15,000
Realised: $18,000
Concrete Contemporary Art
Concrete Contemporary Auctions and Projects was created in 2012 to develop the secondary market for Canadian contemporary art. Since inception we have established creditable auction prices for dozens of important artists. Leveraging our extensive networks of collectors, gallerists, curators and artists, Concrete Contemporary's auctions and events merge the traditional worlds of commercial auctions and galleries. The primary focus is on work produced since 1980 by mid to late career artists with exhibition history in the private and public sphere.
Meet the Specialist