Lot 55
JAMES WILSON MORRICE, R.C.A.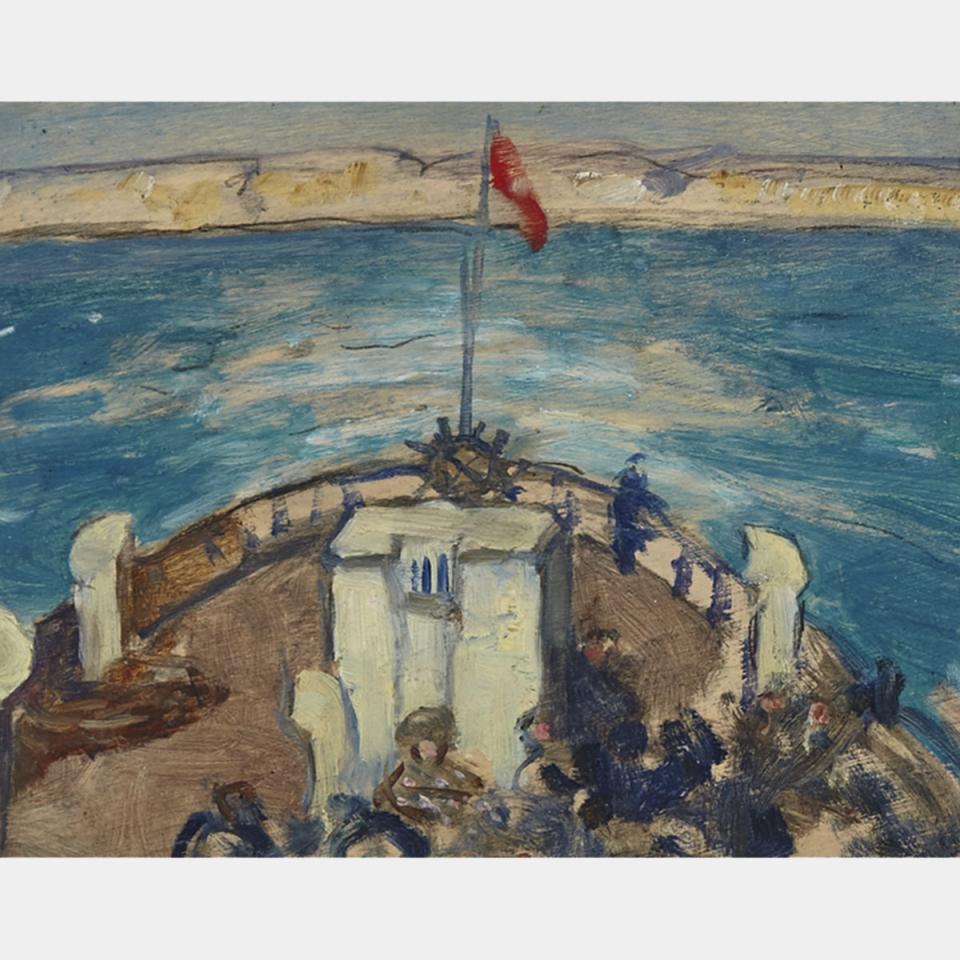 Lot 55 Details
JAMES WILSON MORRICE, R.C.A.
THE CROSSING
oil on panel
with the studio stamp on the reverse
5.25 ins x 6.75 ins; 13.3 cms x 17.1 cms

Estimate $100,000-$150,000
Realised: $204,000
Price Includes Buyer's Premium ?
Additional Images
Provenance:
Galerie Walter Klinkhoff Inc., Montreal
Private Collection, Toronto
Literature:
Lucie Dorais, Morrice, (Canadian Artist Series, No. 8,) National Gallery of Canada, Ottawa, 1985, pages 17 and 58.

Charles C. Hill, Gift to the Nation: G. Blair Laing Collection of Paintings by James Wilson Morrice, National Gallery of Canada, 1992, page 16.

Dennis Reid, A Concise History of Canadian Painting (3rd edition), Oxford University Press, Don Mills, 2012, page 138.

A.K. Prakash, Impressionism in Canada: A Journey of Discovery, Arnoldsche Art Publisher, Stuttgart, 2015, pages 335, 342, 347, 359, 364 and page 368, reproduced in colour as The Crossing, ca. 1912.
Note:
Dennis Reid writes: "Morrice's importance to the development of Canadian Art is incalculable." His impact on painters was profound and multigenerational. Artists as distinct as Kathleen Morris and Jean Paul Riopelle affirmed their admiration for him.

Dennis Reid notes: "... Cullen, Brymner, (Curtis) Williamson and (Edmund) Morris valued his friendship; Gagnon, A.Y. Jackson, Lawren Harris and countless other young painters sought out his work." Further, Morrice's circle of friends included writers and both Arnold Bennett and Somerset Maugham drew on the artist for characters in their books.

Today, as in his own lifetime, astute collectors consider Morrice to be the most gifted Canadian painter of his generation.

Morrice was also critically acclaimed in his lifetime and as A.K. Prakash writes: "By 1909 Louis Vauxcelles, the prominent French critic... declared that, since the death of Whistler, 'Morrice is unquestionably the American (sic) painter ...who has achieved, in France and at Paris... the most notable and well-merited place in the world of art'." Lucie Dorais concurs by noting that "In the course of time, he was elected to every important art society in Paris."

The Crossing shares affinities with one of Morrice's masterworks, The Ferry, Quebec, in the collection of the National Gallery of Canada. Though undoubtedly not a Canadian subject, The Crossing evokes a strong sense of nostalgia for the ex-patriot's homeland. Morrice had left Canada in 1889 and while he would visit Canada periodically, he was never again to reside in this country. Both works are linked as much by mood as subject. Certainly peripatetic travel, quest and longing were woven into the very fabric of the man, governing his living arrangements and manifesting itself in the choice of certain subjects, often revisited. A.K. Prakash quotes Matisse describing his wandering friend as "a little like a migrating bird but without any fixed landing place."

Like the ferries he sailed whether across the St. Lawrence or the Strait of Gibraltar, or from Dieppe to Southampton, Morrice travelled back and forth between Europe and Canada, France and North Africa, Venice, Trinidad and Cuba, stopping but not remaining for long and certainly never settling down.

Examples of Morrice's best work have become increasingly difficult to acquire. Last autumn, a group of 50 works by Morrice was gifted to the National Gallery of Canada by collector and author A.K. Prakash. This augments the renowned Laing Collection which included 15 canvases and over sixty oil sketches or pochades, gifted to the National Gallery of Canada by art dealer G. Blair Laing in March 1989.  A further group of Morrice sketches was donated by the late Kenneth Thomson (Lord Thomson of Fleet) to the Art Gallery of Ontario. As a result, few oil sketches of this calibre remain on the open market.