Lot 93
CLARENCE ALPHONSE GAGNON, R.C.A.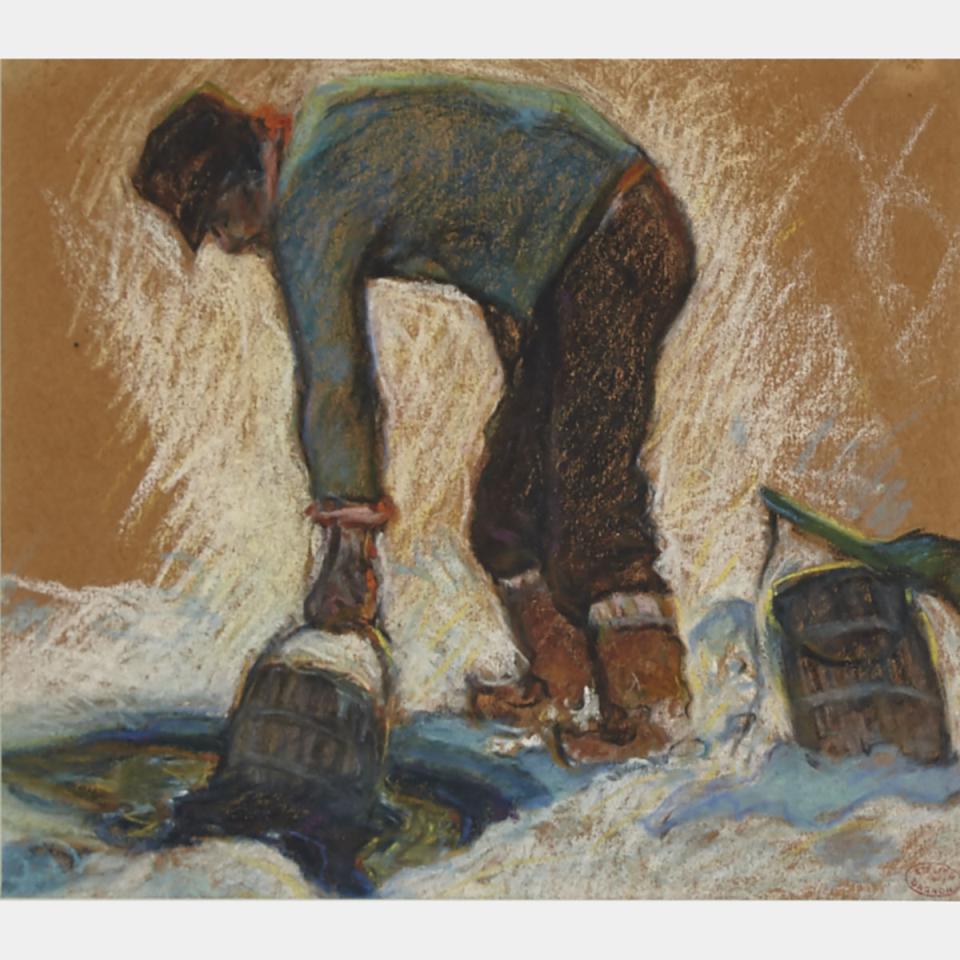 Lot 93 Details
CLARENCE ALPHONSE GAGNON, R.C.A.
PRISE D'EAU (STUDY FOR MARIA CHAPDELAINE)
pastel
with atelier stamp
7 ins x 8 ins; 17.8 cms x 20.3 cms

Estimate $10,000-$15,000
Realised: $9,000
Price Includes Buyer's Premium ?
Additional Images
Provenance:
Galerie L'Art Francais, Montreal
Arthur Leggett Fine Arts Limited, Toronto
Private Collection, Ontario
Literature:
Louis Hémon, Maria Chapdelaine, Éditions Mornay, Paris, 1933, pages 142 and 155 for other related drawings.

Hélène Sicotte and Michèle Grandbois, Clarence Gagnon, 1881-1942: Dreaming the Landscape, Quebec, 2006, pages 197-198, 200, 206-207.
Note:
Louis Hémon, author of Maria Chapdelaine, was a Frenchman who travelled to Quebec in the winter of 1911-12, working for several weeks in the summer of 1912 as a farm labourer in the village of Peribonka, the setting for this Quebec classic. According to Sicotte, "Hémon completed the manuscript for Maria Chapdelaine early in 1913."The novel was published posthumously; Hémon had been killed by a train in Northern Ontario while travelling west.

When approached to illustrate a proposed new publication of Maria Chapdelaine by the publishing house of Mornay, with whom Gagnon had recently collaborated on Le Grand Silence Blanc, Gagnon was reluctant to take on another illustration project. Of course, other Canadians, such as Suzor-Coté, had tackled it before and would pay homage later but Gagnon had found work on the Le Grand Silence Blanc project onerous. However, by agreeing to every condition Gagnon set (including the right to keep any of his original drawings), the publisher persuaded Gagnon to accept the project.

This lot is probably one of the preparatory studies executed for the publication of Maria Chapdelaine which, according to Sicotte, "contained fifty-four colour illustrations measuring ten centimetres by twelve, inserted at more or less regular intervals throughout the book." Despite the discomfort the project had caused Gagnon, the publication was a success.

Sicotte views Gagnon's Maria Chapdelaine as "his artistic testament…since in a sense his whole career is condensed into this final project." Sicotte reminds us that by 1933 just after Maria Chapdelaine was published, "Gagnon virtually stopped painting… executing only a few isolated pictures after that date."